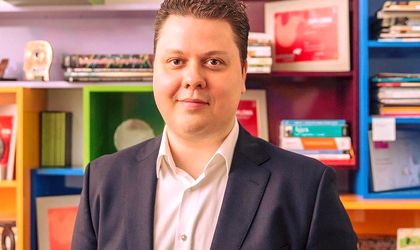 Kubis is a digital marketing agency that finds creative solutions to business challenges. As an international advertising group specializing in break-through work, their aha! moment comes from perpetually chasing that big idea that will bring big results for the client. Senior executive with more than 19 years of experience in digital and traditional advertising, with extensive experience in building, expanding and leading companies specialized in integrated communications and technology, Vlad Popovici talked to BR about how he perceived 2018 in the local advertising industry, the trends and the challenges, as well as his outlook on 2019 and the possible crisis.
By Romanita Oprea
How would you characterize the local communication industry in 2018 in terms of budgets, campaigns, creativity, etc? 
I think it's not too far from the previous year. We observe the same trend of TV-online media mix that seems to be the general recipe in Romanian advertising market. As a type format, video content is arising and becomes the central piece of many online campaigns.
What were the most important changes & novelties in the agency in 2018 and how did they come to happen? 
Best use and mix of technology and creativity generated some of our coolest projects in 2018 and we have invested in research and brining to life some of the most innovative solutions for an immersive brand experience.
Generating quality content and novelty was also something we've focused on as top priority, and due to an always changing digital landscape (become more efficient on cost and timing but have good quality, the independent content creators and curators, etc.), we were constantly updating our internal flows and entrepreneurial approach on doing business.
How was 2018 for the agency?  
2018 was a good and balanced year for Kubis. We've strengthened our senior and top management team with some of the best local talents and we also succeeded in keeping all major clients along our long-term partnership philosophy.
We've also been invited on stage to be awarded in some of the most prestigious local festivals for our creative ideas and campaigns. All in all, we kept a good balance between creative and performance, new business and profits.  
What was the situation like in terms of pitches?
"Simple is beautiful" is a mindset in our creative department, and "less is more" is most suitable for our pitches and new business philosophy. We have a clear business target: we partner with the brands or clients where we can bring the biggest impact in their business, and where we think that a long-term approach brings the best value for both parties.
So we lost some pitches but I think we won the ones that truly count, and 2018 showed a good return on investment on our new business efforts.  
What were the campaigns you admired in the local industry and why?
Studycoin from KFC is a very good example of utility plus techy stuff plus high consumer relevance. \In the same logic, I would mention Doodle Mats from Renault.
What trends did you notice on the local market? 
Influencers become a "must in" of every brief, video-content is booming, real time marketing drives more and more engagement.
As a clear sign of maturity of Romanian market, Employer branding ranks high as types of requested/ part of the scope of work campaigns. When companies feel the need of branding themselves, we all should be happy
What do you wish for 2019 from this point of view?  
We aim to be relevant, we aim to be interesting in communication, we aim to be efficient for our clients' business by using our creative and tech blended thinking.
What do you wish for the local industry this year? 
No matter of group, interests and business objectives, to be united under the same umbrella and vision: making a positive impact and change in the local community through relevant and meaningful communication campaigns.
Do you believe a second economic crisis will come?
I think it might come, but we are definitely acting like it will sure come. We see this in everyday rumors, we see it in how brands are more reserved and conservative way actually spending their marketing budgets. Historically and statistically speaking, we
If so, how will it impact the Romanian marcomm industry?
As usual, among the first things that a company reduces when crisis hits is the marketing budget.
So, I am expecting a certain drop, but how much and when, these are just pure speculations.
What did you learn from the last crisis and how prepared are you for a new one?
We learned to be agile, act fast, experiment a lot, innovate / be the first in offering something new.
Nobody is fully prepared, but once the crisis starts, the most important thing is to be able to adapt quickly.