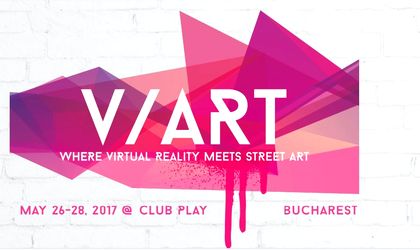 Realities and Gateway VR invite the people passionate about virtual reality in club Play, Bucharest, between May 26-28. With the support of Google Tilt Brush, the visual artists enter the virtual reality, their works becoming digital and the creativity getting new expression dimensions in the 3D world.
As part of the global movement that marks, along with the technical revolution, the change pf paradigm in the plastic art world, V/ART brings from the urban space some of the most famous graffers in Bucharest (Ortaku, Serebe, D21, Lucian Sandu-Milea, Irlo Doidoi) and introduce them in the digital space.
For the first time in Romania, the creative functions of the 3D technology will be accessed in a major urban event that will promote the local visual talent. The creation process will be filmed and broadcasted locally and on social media.
The urban artists will be introduced in virtual reality by the Gateway VR team. Alongside Realities, the professional community of specialists dedicated to virtual and augmented reality, the team organizes the first edition of this event.
V/ART is part of Bucharest Technology Week, one of the biggest events in Romania that promotes innovative techniques in 3 days of exhibition, with over 15,000 visitors and over 70, 000 technology fans.
Romanita Oprea