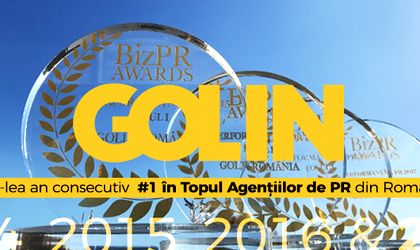 For the first time since its launch, Top 10 PR agencies in Romania has two number ones: Golin Romania and McCann PR. Golin was named for the fourth year in a row the number 1 agency in the PR agencies ranking conducted by Biz and research company Unlock. 
"Such a result is possible only due to the continuous efforts of a team that successfully combines skills and expertise with a permanent concern for improving the agency's standards and work. At the same time, we are grateful to our clients with whom we work together as a real team, with a common objective in our minds: create relevant and impactful campaigns, with best results," says Irina Roncea, deputy managing director, Golin.
Besides the number one position in the general ranking, Golin also won the "Notoriety in PR" award.
It is the first time McCann PR holds this position, after coming second in 2016. Alongside the most important place in the top, the agency was also offered the "Creativity in PR" and "Performance in Business" trophies.
GMP PR came second and MSLGroup The Practice third. The top 10 went as follows: Graffiti PR, SmartPoint, Rogalski Damaschin Public Relations, DC Communication, Grayling, BDR Associates Communication Group and The Public Advisors.
Other awards offered were:
"Best reporting capacity" – MSL Group The Practice
"Recognition for the contribution brought to the PR industry in Romania", "Analysis capacity", "Best implementation capacity" – GMP PR
"Best awareness" – Monica Jitariuc, MSL Group The Practice.
The guide also comprises the top of the PR agencies after the turnover, in 4 categories: more than EUR 1 million, in between EUR 500,000 – 1 million, in between EUR 100,000 – 500,000, under EUR 100,000, as well as profiles of over 50 PR agencies with information about their shareholding, management, offered services, clients' profiles and won awards.
The Top 30 PR agencies, created by Biz and Unlock resulted from the correlation of equal portions (50 percent – 50 percent) of two indicators: the business performance indicator and the agencies; performance indicator, from the clients' point of view.
Romanita Oprea