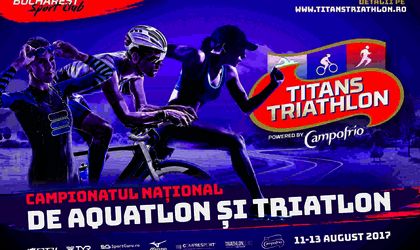 There are only six days left until you can enter in the Relay for the Titans Triathlon competition that will take place on August 13, in the Alexandru Ioan Cuza Park (ex IOR).
Organized for the first time in Bucharest, the Triathlon and Aquathlon National Championships- TITANS TRIATHLON – includes special trials for professionals and semi-professionals, but also trials for amateurs presented under the shape of some relay trials at men, women, mixt, family and corporate.
"We've decided to open TITANS TRIATHLON also towards the amateurs that think they can handle this challenge because at Bucharest Sport Club (BSC) we don't only want to offer a different climate compared to what we've been taught in Romania that it means professional sports, as well as to educate the public and to be able to attract talented children towards this complex sport," said Marius Grigore, president of the Bucharest Sport Club, the event's organizer.
The entries to TITANS TRIATLON can be done online on the website www.titanstriathlon.ro, until August 6 and the entering price for the relay is RON 360 / team and RON 180 on individual trial. The first corporate 10 teams confirmed in the relay will receive as present the only triathlon board game in the world, Triathlon Series, created by AfterRace Games.
The main sponsor of the competition is Campofrio.
Romanita Oprea