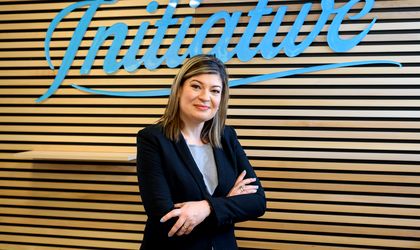 From a global perspective, the media advertising revenues grew by 7% in 2022  to an estimated 795 billion USD and are expected to continue the advance at a slower pace by 5% in 2023, with the biggest increase in the digital sector, according to the Global Advertising Landscape report issued by Magna in December 2022.
Locally, in Romania, the market was influenced by the return to outdoor activities and lower TV ratings but managed to keep the same advertising revenue compared to 2021, while Digital, Radio, and Cinema end the year with positive figures and expectations. Overall, the Romanian media market reached 642M€  (+7% vs 2021), with 350M€  from TV (flat compared to 2021), 32.1M€ in Outdoor (+7%), 31.9M€  in Radio (+10%), 5.6M€  in Print (-10%). Digital media grew by 20% with an accent on search, video, and social media.
Alexandra Olteanu, Managing Director Initiative Romania:
"In a time marked by war, inflation, political instability, and a feeling of uncertainty that is best illustrated by the new word of the year "permacrisis", the media market turned out to be stable and predictable, in the historical trends that include the transition from traditional media to digital. In 2023 Initiative estimates a further slightly positive market evolution in the range of 1% to 4% increase driven mainly by Digital expansion complemented by Radio and OOH positive support, with a flat evolution for TV, while Print is expected to continue the decline".
TELEVISION
After two years of COVID1the 9 pandemic that reshaped and influenced coer behavior according to the different levels of restrictions, 2022 was marked by a return to the previously trends of TV audience decline and it even brought historic lows this autumn.
With the year almost completed, the audience numbers show a 10% drop in Total TV viewing on the 18-54 Urban commercial target, more abrupt than the one in 2021 (-8%), and in line with Initiative's predictions made in the first half of the year.
The new audience fall has also led to a further 11% drop of the sold GRP30'', and together with the usual sold-out inventory (minutes) as well as double dig double-digital production costs created the premises for implicitly increasing advertising costs. Moreover, despite the uncertain macroeconomic evolution, the demand for TV advertising was not affected and this led to the TV market to remain remaining flat, in accordance with our estimations.
Even though we've seen stable audiences in early autumn, giving the impression of an evolution in line with the milder historical decrease trend, of approximately -6%, October came with a negative record of -20% compared to the previous year. However, in this case, the erosion was also boosted by the dramatic effects of the pandemic in the autumn of 2021, when Romania recorded both a peak in cases and  COVID-19 also in TV audiences, with the highest numbers of that period in the last 5 years (16% TTV rating on the commercial urban target 18-54 vs 12.4% this year).
The Generalist channels recorded decreases that varied throughout the year depending on the success of the programs from each season: Pro TV has lost 8% on commercial urban target and 7% on national target, although with the success of Survivor in spring, the station's decrease was at that time only 3%. Antena 1 decreased by 15% compared to last year, while Kanal D reduced its loss from 47% to around 30% on urban and national target. Prima TV also ends the year with approximately -4% on the urban target, although it had positive figures in the first months. As for the share of audience, Pro the TV gained 0.4 pp and 0.7 pp on urban and national target, Antena 1 lost 0.8 pp on urban target, Kanal D dropped by 2.6 pp on both targets, and Prima has + 0.1 pp on urban and 0.2 pp on national target.
The News stations recorded audience increases because of the Ukraine war, especially at the beginning of it. The results dropped significantly since then but are still strong enough to keep the news stations in the top for tat rest of the year. Romania TV registered an increase of 6% compared to the similar periaof 2021, Antena 3 CNN has plus 3%, while Digi24 has completely lost its gains and dropped to -2%. Realitatea Plus is also up by 19%, while B1TV is the only news television with a major loss of 25% this year.
The 10% drop in TV audience was also reflected in the balance of GRP30'' sold by the stations. Compared to January-December 2021, the overall decrease is around 11%, only SRTV channelswith  which broadcasted FIFA World Cup and a few TV niche stations from the entertainment, movies and family catego,ry managing to end the year with positive figures. Pro TV has a decrease in GRP30'' balance of up to 10%, and a 0.6 pp increase in share, while Antena 1 lost 14% and 0.4 pp share, and Kanal D has -29% and -2.8pp. The main news stations have had big drops in recent months, but the beginning of the year made the January-December period end for Digi24 and Antena 3 CNN with -6%, and for Romania TV with -3%.
The changes in the sales policies this year are reflected in the buying target definitions, the increase in the reference CPP, premium surcharges and seasonality ind,exes – plus the investments in the World Cup Qatar 2022 generated a double-digit inflaon of the average buying CPP and same TV advertising revenue compared to 2021 (350M euros).
Looking at the new year, 2023 will continue sales policies adjustments spolicyn 2022: the extension of the buying target towards more mature national groups and the increase of the seasonality indexes, especially in the low season months (Jan-Mar, Jul-Sep and Dec).
Despite the, lack of predictability in the macroeconomic context for 2023 and the years to come, we can cautiously estimate that the value of the TV market will remain flat in terms of revenues, in the best case, as the TTV Rating will continue the downward trend, generating double-digit CPP buying inflations.
DIGITAL
Digital will continue to increase and take share from overall market (including 20the 23), driven especially by organic factors (e-commerce, consumption shifts).
As with all recessions, budgets gravitate towards formats and campaigns that are the easiest to attribute to revenue, so Search is expected to be totally "recession-proof" (+12% vs 2022), even for the long tail of small businesses which rely on hyper-targeted lower funnel advertising. Considering data restrictions, keyword-based search advertising formats will strength even more, as they are less impacted under under any legal limitations.
Video is expected to continue its robust growth, with all its components on a positive trend and a focus on short-form user generated content short-form user-generated, therefore increasing by 7% in 2023.
Multiple headwinds (plateauing reach and usage, brand safety concerns, targeting limitations) combined to cause social media advertising revenue to slow down its growth (+3% in 2023), TikTok being the only social media platform to expect significant extension.
From devices perspectives, budgets follow consumers on their journey, prompting mobile advertising sales (revenues from impressions and clicks on smartphones) to get +80% of total digital spending (in 2023 Desktop based ad revenues is expected to be flat, while mobile arena CTVs continue growing).
OOH
The 2022 OOH net market increased by 7%, totaling around 32M€, as summer festivals campaigns boosted this year's festival spending. For 2023 we estimate a 20% inflation for rent services, and an approximate 15% increase of price for the production services, thin will induce an increase in the volumes invested in OOH.
RADIO
After a cautious first half of 2022, we are witnessing major increases in radio budgets and loading at the end of the year (Sept-Dec). This has compensated for the first period, which means that 2022 ends with an increase of 10%, reaching 31.9M €  (from 29M€). Radio stations continue to focus on increasing interaction with listeners through 360° packages (radio, online, social media) or loyalty campaigns adapted to listeners' interests/needs. For 2023, we expect the same upward trend for radio as this year.