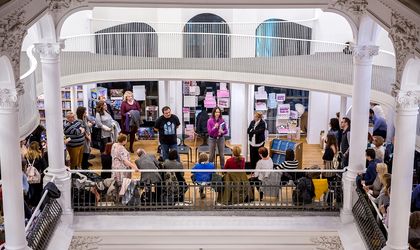 The last 15 years of Romanian PR history, reflected through the best examples of best practices reflected in the 15 years of Romanian PR Award's competition history, were reunited in a book, The Golden Book of Romanian Public Relations, the first big collaborative effort of the local communication industry.
Structured in 18 areas of expertise, the book brings together and offers to the specialized and general public the local PR cases from the last 15 years adding, in the same time, an extended collection of ideas and opinions related to the actual Romanian PR practice and the future of the profession.
The book encompasses the work of 52 editorialists, practitioners in communication from very different areas, which gives the volume the scope of a real practical manual and a companion in analyzing and studying the local PR practice. The volume is opened by two famous authors, James E. Grunig, Emeritus Professor at University of Maryland University, and Aneta Bogdan, the branding expert.
The 95 cases selected to appear in the book received, between 2003-2016, the Golden Award for Excellence trophy at Romanian PR Award, which adds to the book a substantial documentary dimension. The presented programs are a living proof of the way the local communication industry's preoccupations evolved and reflect, in a certain way, the fears and hopes of the Romanian society during the last 15 years.
"The book started from my simple conviction that I arrived at after more than 15 years of involvement in the development of the public relations profession in Romania: Public Relations cannot be practiced as a management function accepted by organizations and society, unless the practitioners have a solid body of knowledge based on study, dialogue and reflection. The volume is opened by two distinguished authors James Grunig and Aneta Bogdan," said Dana Oancea, coordinating editor of the book & organizer of Romanian PR Award.
"In the same time, one must notice the increased attention given to sustainability and social responsibility, and also to some social inclusion programs dedicated to publics that are often ignored by the organizations. This book shows that PR is now a real profession in Romania," also added James E. Grunig, Emeritus Professor University of Maryland.
The book can be found in the Carturesti network.
Romanita Oprea