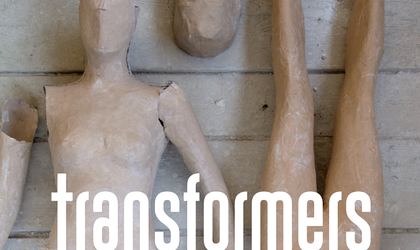 The most talented graduates in 2016 of the department of Fashion Design at the University of Arts in Arnhem, ArtEZ and from the Fashion Department of the National Arts University in Bucharest will present their creations during Romanian Design Week 2017.
The "Transformers" project will be on display at the second floor of the central space in 45, George Cobalcescu Street.
The exhibition brings in attention tens of young fashion designers that chose to present their diploma collections during an event that focuses on their personal vision, on the passion and their enthusiasm regarding the fascinating future of fashion: Johanna Bas Backer, Jorieke Tenbergen, Rosanne van Wijk, Christina Albrecht, Peer Cox, Alina Iuliana Radulescu, Diana Petroi, Silvia Paval, Cristina Gheorghe, Alexandru Simedru.
"The exhibition is the result of the successful collaboration between the Dutch and the Romanians in the fashion design field. Transformers presents young talents from both countries, being a reflection of the next generation's creativity. The conference "Re-designing fashion education" with Matthijs Boellee (teacher-guest from ARTez) offers an excellent platform for the change of educational and creative ideas," said Stella Ronner-Grubacic, the Dutch ambassador in Romania.
The curators of this exhibition are Lenn Cox from Holland, a curator preoccupied with ideals and avant-garde ideas and Sergiu Chihaia, a complex visual artist that is preoccupied by research in the textile, volumetry and manufacturing fields.
"The only certain thing today is that we are in a continuous movement and change. And that we can influence the future! The fashion is the place in which the culture shows itself as the most dynamic and is in a continuous transition. These graduates discovered their own path and they created their own artistic signature in those four years of study, transforming the ideals and ideas in shapes, materials and crafts," said Lenn Cox.
Moreover, a creative approach of the presentation had the architects from the BAZA studio that created the design and the architecture of the exhibition and Denis Simion, a young artist that studies sculpture at the University of Plastic Arts in Bucharest and that created manually all the mannequins in the exhibition.
Moreover, the conference "Re-designing fashion education", which will bring in front of the public three alumni that became teachers-icons in the schools where they prepared, takes place on Sunday, May 21, 5 PM,   The seminar will be about the essential works that every young designer at the beginning of the road has to master in order to surpass the barriers of developing a new brand. Speakers will be Sergiu Chihaia, UNArte Bucharest, Lucian Broscatean, UAD Cluj, and Matthijs Boelee, fashion design teacher ArtEZ, where he also occupies the leading position in the fashion department.
Romanita Oprea