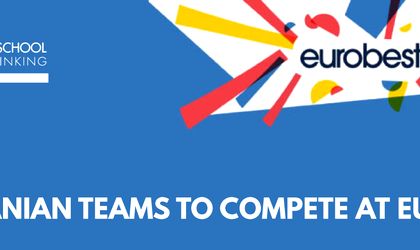 The first 3 teams qualified following the competition organized by The Alternative School will represent Romania to the competition Young Lions / Integrated Eurobest, taking place in Warsaw on November 22nd-25th.
By Romanita Oprea
The qualified teams include Andra Vlasceanu Bart – Art Director / Anca Pantus – Copywriter, MullenLowe – 1st qualified, followed by 2 teams that achieved equal scores: Ecaterina Micutaru – PR Executive and Vania Piersinaru – PR Manager, GMP PR and Ana-Maria Flipescu – Copywriter V+O Romania and Sonia Dao – Digital Associate Golin.
The section the Romanian teams will compete at Eurobest is Integrated, the one they prepared at The Alternative School, together with other 40 participants representing agencies and clients from Romania.
Following the meetings that took place during The Alternative School, the qualified teams explored a number of briefs. Among those, the final brief and the 48 hours brief were evaluated by 7 jurors – their class teachers as well as other communication specialists from Romania, Turkey, France, Israel and Korea.
Ali Bati – Leo Burnett, Andreea Ghenoiu – Jazz, Alexandra Bombita – Geometry, Filip Gonzacenco – Publicis Conseil Paris, Dorian Ilie – Rogalski Damaschin Public Relations, Vera Gavrila – Media Concept Store,  Andreea Ghenoiu – Jazz, Mihaela Paduraru – Produsul Anului, SangSoo Chong – Ad School Korea, Sahar Lewenstein – Hooligans, Tel Aviv, Alexandru Haidamac – Ogilvy were among those who evaluated and trained the students.
The reason Romania has the biggest number of teams in competition is the tied result from the last judging round. Because the teams on second place had equal scores and following a request sent to Eurobest, the festival's organizers agreed to make an exception and allow all 3 teams to compete.
"Since the launch of The Alternative School, 15 years ago, we have been striving to send the biggest possible number of Romanian competitors to the competitions dedicated to those under 30 years old. The more we expose young people with potential to the experience of international competitions, the more we offer them the chance to evolve and come back to their agencies with more experience, more work discipline and more passion. Today, all top agencies in Romania have in their creative departments valuable people, prepared via The Alternative School. I am grateful for the chance given to Romania by the organizers and happy with the real interest for our students' performance," said Teodora Migdalovici, Founder of the educational program The Alternative School.
Young creatives from all over Europe reunite every year for Eurobest to test their abilities, show their talent and have the chance to perform.
The Alternative School for Creative Thinking pioneered when it came to education within the creative field. During the last 15 years, over 300 young people have been sent to international specializations to Cannes and Eurobest, and the best of them brought back in Romania Gold, Grand Prix, Bronze and Merit Awards in international competitions.