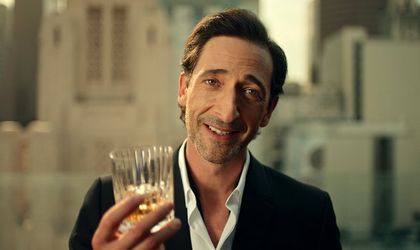 Johnnie Walker, the most widely distributed Scotch whisky in the world, is launching a new campaign in partnership with the Academy Award winning actor, Adrien Brody. 
The new campaign, THE WALKERS, is transforming the famous KEEP WALKING into a rallying cry for collective progress. "The world needs progress now more than ever and that we can achieve together" is the brand's conviction.
Adrien Brody possesses all the qualities of a WALKER. He has always been willing to walk the extra mile, to improve the world as he can and challenge the status quo. He is the hero in THE WALKERS video spot, inspiring collective progress, firing imagination of what is possible and showing people that there is a WALKER in each and every one of us.
In THE WALKERS video, Brody inspires viewers to find their inner drive and forgotten talents and share them with the world. The campaign is driving cultural vibrancy and landing the philosophy of "Keep Walking": "We don't settle for things as they are. We Keep Walking."
"In the world of socializing, Johnnie Walker has always been a powerful force. For centuries, we've brought people together. Right now, this is more relevant than ever. With THE WALKERS campaign featuring Adrien Brody as a Walker we show our responsibility to re-socialize the world with some of the most important voices in culture" says Fardin Ahmadyar, Brand Manager Whisky, Diageo Eastern Europe.
"I was so inspired by this campaign that I offered to remix the music for the video. Making beats is an old passion of mine. We keep walking, even if the whole world stops", says Adrian.
Adrien Brody is an award-winning American actor, producer and fashion icon, with Hungarian family roots. He received worldwide recognition after starring in The Pianist (2002). He is known for the great passion he puts in his work and his drive for communal progress.
Brody recently wrapped production on Searchlight's SEE HOW THEY RUN opposite Saoirse Ronan and Sam Rockwell. Next up, he stars in Wes Anderson's THE FRENCH DISPATCH, which made its world debut at Cannes 2021; Adam McKay and HBO's untitled drama series about the Los Angeles Lakers in the 1980s, in which he'll play legendary basketball coach Pat Riley; Andrew Dominik's BLONDE for Netflix; the television series CHAPELWAITE for Epix, based on a Stephen King novel; HBO's SUCCESSION season 3.
Johnnie Walker is the world's number one Scotch Whisky brand (IWSR 2019), enjoyed by people in over 180 countries around the world. Since its foundation by John Walker 200 years ago, those who blend its whiskies have pursued flavor and quality above all else.
Today's range of award-winning whiskies includes Johnnie Walker Red Label, Black Label, Double Black, Green Label, Gold Label Reserve, Aged 18 Years and Blue Label.
Together they account for over 19 million cases sold annually (IWSR, 2018), making Johnnie Walker the most popular Scotch Whisky brand in the world.