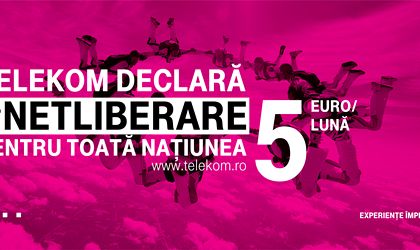 Telecom operator Telekom Romania and Leo Burnett agency have launched the communication platform #NETLIBERARE that talks about the fundamental importance of the Internet nowadays.
The campaign's idea starts from one of the most important values for Romanians: the freedom. The Internet represents a guarantee of the freedom in all of its forms and, therefore, the access to Internet should be more a right than a privilege.
The platform developed by Leo Burnett marks an important moment in the brand's communication that proposes itself to bring under the #NETLIBERARE umbrella a bigger value and extended services for the users. Therefore, the campaign gives a new perspective to the brand signature, the Internet and the connected benefits offered by Telekom becoming a facilitator for the promise of "experience together".
 "For Leo Burnett #NETLIBERARE was a project in which all of the people involved invested a lot of energy. A positive energy that consumes you in a positive manner and gives you satisfaction because there are not often the moments in which in advertising you have the opportunity to start from the beginning with a brand that is so visible, such as Telekom," said Victor Stroe, head of Planning & associate director of Leo Burnett.
The campaign message is delivered through "spoken poetry", a type of poetry distributed online, for which the agency decided to collaborate with the artist Deliric. The five TV spots can be seen here.
 The Leo Burnett team:
Victor Stroe – Head of Planning & Associate Director, Ali Bati – Chief Creative Officer, Alin Marghidanu – Group Creative Director, Andreas Aron – Copywriter, Victor Trifan – Art Director, Sebastian Romano – Copywriter, Alin Badiu – Art Director, Catalin Stanciu – Copywriter, Ion Ludosanu – Art Director, Dinu Gojan – Art Director, Alexandru Covrig – Art Director, Mihai Lucanu – Brand Communication Director, Gabriela Suciu – Brand Communication Manager, Maria Ilea – Brand Communication Executive, Andreea Strachina – Head of Digital, Paula Stan – Digital Project Manager, Sorin Deleanu – Producer, Alex Zlavog – Jr. Producer.
The Telekom Romania team:
Ruxandra Rau – Director Brand & Communication Strategy, Stefania Rusu – Supervisor Brand & Communication, Katerina Todorovski – Marketing Expert, Oana Ioja – Marketing Specialist, Gratiela Sevastita – Marketing Specialist, Romeo Bunescu – Marketing Expert, Andra Miulescu – Marketing Specialist, Mihai Tigler – Marketing Specialist, Ciprian Postelnicu – Supervisor Media & Production, Ioana Stoicescu – Senior Media Specialist, Carmen Miu – Media Specialist, Bogdan Jelescu – Manager E-Channel, Iulia Bordeianu – Senior Online Specialist, Mihai Popescu – Supervisor Online Content & Campaigns, Cristian Constantinescu – Production Specialist, Dorin Daniel – Marketing Specialist, Petruta Pelin – Marketing Specialist, Mirela Matei – Marketing Specialist.
 Romanita Oprea