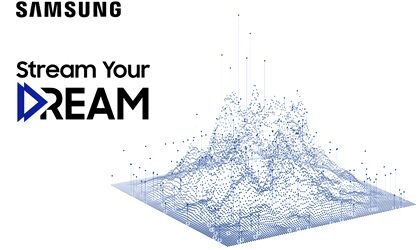 Samsung Electronics Romania launched the project Stream your Dream, a developing platform dedicated to the micro-influencers in different areas, created with the support of the PR agency MSLGROUP The Practice. The platform aims to offer the participants relevant information and best practices models under the guiding of the best and most renowned specialists in every interest area.
Stream your Dream will roll out over the course of a year as four modules. Each module will have a different theme, addressing micro-influencers with different passions (technology, photography, film, music, design etc) and is structured in theoretical and practical stages.
The first module with the theme Product Unboxing will be dedicated to the tech vloggers and will take place on November 25 , at Cavaleria headquarters, the media partner of this first Stream your Dream edition. George Buhnici, alongside two experts in editing and Monica Jitariuc, managing director MSLGROUP The Practice and social media expert, will be the aspiring vloggers' mentors.
The first Stream your Dream module can be accessed by any tech vlogger with less than 50 000 subscribers that fits the selection conditions, by using a decent language on their videos and by owning a Youtube channel. To get in the program, each vlogger has to create a video review of minimum 3 minutes about his /her phone (no matter its brand) and to post it until November 19, 22:00 on his /her Facebook page, using the hashtag #Streamyourdream and tagging the Samsung Romania page.
The jury, formed of Simona Panait (Head of Corporate Marketing & Communications South-East Europe Samsung), George Buhnici (www.cavaleria.ro), Marian Ionescu (Head of Influencer Marketing Department la MSLGROUP The Practice), Monica Jitariuc (Managing Director MSLGROUP The Practice) and Alin Patrascanu (Trainer Telecom Samsung), will analyze the entered reviews on the following criteria: the coherence of the argument, diction, the quality of the material's editing and the correct speaking, from a grammatical point of view. The ones that had the best 10 reviews will be announced on November 22, on  Samsung Romania's Facebook page and will therefore be able to take part in the first module of the Stream your Dream platform.
During the first session, every participant vlogger will create, under the mentors' guidance, a review of a Samsung product. All 10 reviews will be uploaded on the Samsung Romania Facebook page and will be able to be voted by the fans. The vlogger with the best review – 50 percent Jury's decision, 50 percent public's votes – will win a Samsung Galaxy S8.
Romanita Oprea