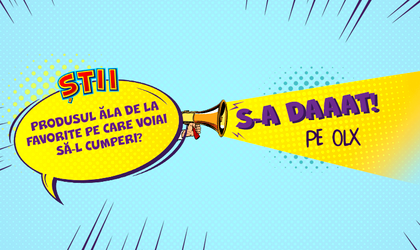 The #SADAT campaign reminds all the Romanians how important is not to postpone contacting sellers when they want to find the perfect product, so that you can make sure their products haven't been given away. 
By Romanita Oprea
"The objective of our campaign was to generate a bigger interest in OLX products, in order to increase the satisfaction of the website's active users. A bigger interest means more than adding a new product to Favorites in order to later be surprised to see that it was given away… We've identified that people – wrongly – have a consumption behaviour similar to what happens on retail websites – on a website that is not a retail one. Therefore we decided to remind them that they can miss very good offers if they don't contact the seller instantly," said Teodora Stefan, senior copywriter at Saatchi & Saatchi + The Geeks.
The campaign is promoted through a mix of integrated channels: TV, digital, PR and social media. Also, part of the campaign is the playlist BUN DE ASCULTAT CÂND S-A DAT, on Spotify, which contains a series of songs to take the pain away when you've just lost something. The users are encouraged to look for another object on OLX, while they are musically comforting themselves, so that they don't lose this second product as well, due to the fact that was given away.
The OLX team working on the campaign was formed of: Paul Neagoe – Business Manager, Marius Funie – Brand Manager, Ana Visian – OLX Growth & Goods Manager, Andi Voicila – Head of Design, Cristina Sauciuc – Communications Specialist, Cristina Gheorghitoiu – General Manager.
The Saatchi & Saatchi + The Geeks team: Bogdan Costin – Creative Director, Dan Cretu – Senior Art-Director, Teodora Stefan – Senior Copywriter, Georgiana Rotaru – Account Director, Vlad Petre – Managing Director, Costin Radu – Consultant Independent.