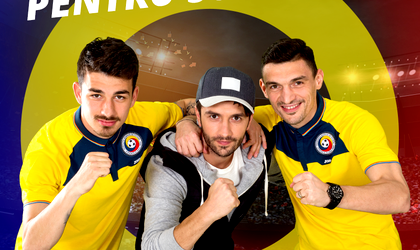 Saatchi & Saatchi + The Geeks agency has signed the communication campaign for the partnership between Fortuna and the , through which the betting house became sponsor of the National Football team.
At the center of the communication the national team supporter is placed, symbolically represented by Dan Stroe, a fictional character that has always been alongside the national team players and that deserves to enjoy more the win, no matter the result on the field.
"Fortuna will bring the national team supporters, through every communication initiative and through the products dedicated to the partnership, smaller or bigger wins, some pragmatic, specific to the product: special quotes, dedicated bonuses; other, emotional, related to the national team, such as: meetings with the players, T-shirts with autographs of players and many others," said Vlad Petre, brand communication director – Saatchi & Saatchi + The Geeks
The campaign includes TV, BTL executions, in-store, PR and digital.
The Fortuna team: Bogdan Lebu – Marketing Manager, Bogdan Sonea – CRM & Casino Manager.
The Saatchi & Saatchi + The Geeks team: George Ilițoi – Copywriter; Ion Altieri Constantin – Designer; Rafaela Beldie – Group Creative Director; Paul Foltache – Senior Web Developer; Andreea Adamescu – Brand Communication Executive; Vlad Petre – Brand Communication Director; Costin Radu – Managing Director and Head of Creative Planning.
Romanita Oprea