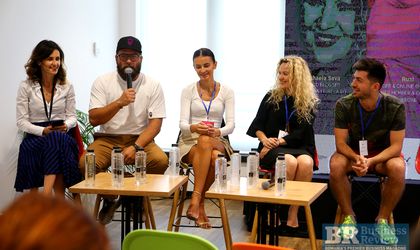 One of the most original panels on the agenda of StartUpPath, Business Review's two-day event focusing on startups and entrepreneurs, was dedicated to Romanian internet stars. The so-called 'influencers,' who unanimously rejected the term are vloggers Ruxi and Mircea Bravo and food blogger Mihaela Sava and content creator Cosmin Tudoran. They shared with the audience insights into the way their business works and what expectations those who want to follow in their footsteps should have.
"I hate the term influencer," said Cosmin Tudoran, from ProfuDeVin &Tudoran, Maga&Tudoran. "When people ask me about being influencer I always joke: 'What do influencers influence about'? You have to do your best work. With one hit you're going to be a one-hit-wonder."
"Your work will choose the right audience by itself at some point. If you're doing like a TV station and you have Discovery Science, nobody will look at the latter if they don't understand it. But eventually even if you're niche, your audience will find you," he added.
Ruxi, Vlogger &Online Entertainer, Former Member &Co-Founder Like One, said: "When you start, you should never start out with the idea of making money. The money comes later along the way."
"I also hate the word influencer," she conceded. "It is starting to freak me out because it seems to be a 'dream job.' It is not a dream job. Everyone wants to be one, but not everyone can. I can legitimately say that the money started coming after three years. For two and a half years I've been working like crazy and not knowing what was going to happen. The secret is to be consistent and the money will come eventually," she added.
"What I noticed that a lot of vloggers – the moment they hit a viral video think they've made it," she explained. "But that's not the moment it gets easier. That's when the work starts."
"If you are in a niche, you can't have the same figures of someone who is mainstream. You must be very serious about what you're doing. And the agencies will look for you and then they will consider you an influencer," Mihaela Sava, Food Blogger LaPrajiturela.ro said.
Speaking of the resources she has to put in everyday in the running of the business, Sava mentioned the time to learn. "I have to learn a lot everyday, because the industry is evolving all the time. I had to learn how to Instagram by putting in four evenings. Now it is cool to eat quinoa, or to eat chia. I need to be updated on everything," she said.
Mircea Popa, Content Creator, Entertainer MirceaBravo added: "It is hard for an influencer to be fresh every day. I am afraid of over exposure. I am waiting for an influencer to reach four years on the market to see if they still have it," she said.
"You have everything right now. You have the platform, the tools. Just post and, according to feedback, adjust your content. I think in Romania the level of entertainment is not high," she added.