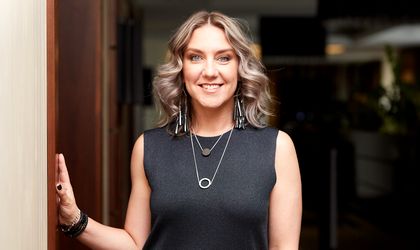 DDB Romania is the creative agency member of The Group, a leader in the communication industry in Romania. Tribal Worldwide Romania, affiliated to the Global DDB & Tribal Network works in Romania with more than 40 local and global brands, while having the biggest social media department in a Romanian agency. You know what they say: the more, the more equally divided tasks are. BR sat down with Roxana Memetea, managing partner DDB & Tribal Worldwide Romania, and found out more about the agency's past year, as well as her view on the marcomm industry and what to expect from 2023.
By Romanita Oprea
How was 2022 from a business point of view?
It was a great year for us. We managed to consolidate our relationships with our current clients, creating some great work that I'm really proud of. For example, we developed in partnership with VIF Network the #UnExaminable campaign, a social campaign that managed to raise the public attention about the virginity test that are still existing in Romania. We are very proud that the impact of this campaign was important and in only few days the tests were stopped at INML. This campaign also brought recognition at important local and international festivals such as: Gold at London International Awards and Glass Award in Eurobest Festival of Creativity and Agency of the year in Romania at the same festival, Silver at Cresta, Gold at Webstock.
Also, for McDonald's we created a powerful employer branding campaign featuring an uprising Romanian artist, a spoken-poetry manifesto for being there and believing in the younger generation. We created more experiences for customers at festivals such as Untold and we focused to put community management as a top priority in day-to-day communication.
There's also a campaign for Honor where we celebrated their first year in Romania with a great creative that put under the spotlight how tough beginnings are, and encouraged Romanians to be the example they needed when they first began something.
And these are just some examples that are close to my heart.
Of course, when the work is great, the numbers follow. We reached to increase also our revenues, having 6 big new clients in our portfolio and extending business for our current clients.
What were the most important changes & novelties in the agency in 2022?
I would begin by saying that for us 2022 it was a team year. We have some of the best talents in the market working with us. And what I'm extremely proud of is the fact that the retention rate stayed at a very high level in both agencies.
We invested in our strategy department, and we created a product that brings added value to our clients helping them to better understand their customers and to create campaigns based on valuable analysis and insights.
Then, Roxana Nita join the DDB team as Executive Creative Director and together with her creative leadership we did some great work that got rewarded at the most important festivals in the world and, of course, our new business efforts didn't go unnoticed, adding some great new brands to our portfolio.
At Tribal, we grew our influencers marketing department developing an internal tool that will help ease the process and we cannot wait to launch it. Also, we consolidated our main competitive advantage in the market – the social media department by adding more strategic and creativity resources and we can see the results in all the amazing creative campaign that we implemented in social media platforms this year such as: McDonald's with the best community management I've seen so far on Facebook, Tik Tok where we opened Cora's account with different activations tactics, Instagram and YouTube with Honor and many more.
Generally, it was a very intense year in the marcomm industry with many projects and campaigns until the last days. Was it the same for your agency?
Yes, we have the luck of never getting bored. Most of our clients are from FMCG which automatically means intense and fast, but it's what is keeping us entertained.
What about the pitches you entered?
Our philosophy is to select with great care the pitches we decide to participate at so we say yes to those that really match our team capabilities and our vision. We tend to prioritize our current clients yet when we go into a pitch, we go all in. Reason why our winning rate is high. I would say an average for both agencies is one in three.
What do you wish for 2023?
Team, team, team – I am a firm believer that your own team is your most important client and we do our best to find the best solutions for our people and to keep great energy in our agency. We proudly managed to have an amazingly healthy work-life balance and it's our top priority to keep it this way. More, we try to find the best ways to inspire our people and to offer them the best learning experiences to grow.
Working on consolidating our clients portfolio' – finding the right businesses that fit our team profile. We carefully choose the pitches we go into and we prioritize growing our current clients.
Doing our best to create meaningful work that makes the world a little better – besides our client's work that our first priority, we have this causes we fight for and we do pro bono work to make things in Romania a little better.
And some more stability in the market. I feel this panic fatigue has got to us, after covid, lock down, instability, war, recession, inflation, it feels like everybody got a bit tired.
What did clients want the most in 2022? Do you see any changes in their approaches?
Briefly I would say digitalization, strategy and creativity.
I see a great search for good advertising, and here I'm talking about creativity at its best. I'm thrilled to be working with clients that understand the power of a great creative and that let us play and trust us.
Then I would mention a shift towards more data-driven advertising strategies. Many advertising clients are now using data analytics, AI, and machine learning to better understand their audience and create more targeted and personalized advertising campaigns.
Also, I see more and more clients understand that it's important to incorporate social responsibility and sustainability into their advertising strategies to connect with socially conscious consumers. And we do a lot of work thinking of the brand purpose.
And an open gate for AI, Metaverse and TikTok. I think everybody understood that we are slowly entering a new era and we're all trying to get a taste of these new technologies and platforms, to understand how they work and how they'll shape our tomorrow's KPIs.
What do you consider the latest trends that are arriving in the marcomm industry and why?
AI will change the game for sure. And I think it will be great because it will give us more time to focus on the real important work. It's great to see that, in the end, creativity is the answer, no matter how far tech goes. I am an early adopter, and we already have some tools in the agency to help us ease some processes.
Sustainability and social responsibility – I don't see them as nice to have. Consumers are becoming increasingly aware of environmental and social issues, and they expect brands to take a stance on these issues. Brands became sort of public institutions that are responsible to act if they want people to become their consumers or their ambassadors.
Influencer marketing will evolve into a common marketing tactic. and now the thing that matters the most is how brands use these partnerships in a natural way, that's relevant for the people.
Videos become either shorter and shorter or longer and longer. It's either tik tok or the long cut on YouTube.
Where do you see the Romanian marcomm industry compared to the European marcomm industry?
We at DDB & Tribal are super proud to be working with a lot of both local and global clients and I am super honest when I say that we have some super strong marketeers working here, in Romania that set the bar high. Take a look at what amazing campaigns happened last year, how many were awarded globally and how many great clients became regional directors.
Except for the budgets that are more generous in the EU, I would say we win at creativity and at finding unexpected solutions to real business problems.
Where do you believe to be our industry's main problems and how can they be changed?
Fatigue, trust and blockers.
Consumers are exposed to a vast number of ads every day, which can lead to ad fatigue. When consumers are overwhelmed by too many ads, they become desensitized to them and may start to tune them out. This is a huge challenge for us, constantly trying to find solutions to catch attention, yet in a way that's not too much.
Lack of trust: Trust is a critical factor in advertising. Consumers are becoming increasingly wary of advertising due to the prevalence of fake news, misleading claims, and data breaches. Just open your Instagram and see how everybody's trying to sell you something. We fight this by putting ourselves in the shoes of consumers, trying to be honest and find meaningful and relevant ways to advertise.
Ad blockers: Ad blockers are becoming more common, which means that advertisers are losing the ability to reach a significant portion of their target audience. This is particularly true for younger demographics who are more likely to use ad-blocking software. And we all need to find new ways to reach their target audience without relying solely on traditional display ads.
How much of an important role are still having the consultancy and the strategy in 2023?
We've never lost our zing J We've always had a seat at the table, co-creating the best business strategy for the year along with our clients. Now, even more than before, I feel that marketers feel the need to bring us onboard from the very start. Things are happening super fast, changing fast, newness is on all streets and it's hard to keep up with 2023. Our job is to stay up-to-date with the latest trends and identify new opportunities to reach different target audience.
I find our broad spectrum of clients and our access to a huge data base of results and strategies make us a much needed consultant in though times. And our specialization is creativity.
What better people than the ones specialized in finding unexpected, creative solutions can help you write down your strategy?
What about data and research? 
With the rise of digital media and the increasing availability of data, it has become more important than ever for businesses to use data-driven insights to develop effective communication strategies. Briefly, understanding your audience is critical to developing effective communication strategies. Data and research can help businesses to identify the interests, behaviors, and preferences of their target audience, allowing them to create more relevant and personalized communication that resonates with their audience. You can test your message, before launching a campaign, you can do a competitive analysis based on data and the results can really change the direction of a strategic approach.
We do that on a daily basic in our strategic department, that I really believe is one of the strongest in the market, that works closely with our internal Data Analysis and with our colleagues from the media agencies in the group. It's a process that's reinvented all the time, choosing to look at data differently every time.
What are the trends in advertising in 2023, from your point of view?
Common sense I think it's still the most important one. It's nothing new, yet I find it the newest new. People got more and more attentive at the way they consume advertising. And they are super selective and see when it's either too much, either farfetched. If you're honest and if you put yourself in the consumers shoes, don't go thru the intrusive door, you'll be all right. I still believe in the your consumer is your best friend or your mom mantra.
Also, personalized advertising is becoming increasingly popular, and this trend is likely to continue in 2023. Advances in data analytics, AI, and machine learning will allow advertisers to create more targeted and personalized ads that are tailored to the interests, behaviors, and preferences of their audience.
In 2023, we may see more advertisers using AR and VR to create immersive experiences that allow consumers to interact with their brand in a new and engaging way. I discover a lot of new information from my kids in this area.
Do we still see the impact of the pandemic? How do you react and adapt?
Of course we do. And the 1st thing that comes into my mind is that we still work in a hybrid system and we'll keep it this way. We changed a lot of our internal processes, ease them up, and that's thanks to the covid pandemics. But if you put it this way, our industry has always had to react quickly to changes, to innovate and to stay relevant. And this is what I mostly love about it. There's no time to get bored.
More, pandemic has accelerated the shift towards digital advertising, with many advertising clients shifting their budgets towards digital channels such as social media, search engines, and e-commerce platforms. With more consumers shopping online, businesses have had to optimize their e-commerce platforms and advertising strategies to meet the increased demand for online shopping.