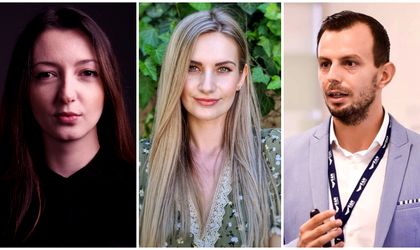 Httpool, an Aleph Holding company and global partner of top digital platforms (Facebook, Spotify, LinkedIn, Snapchat, etc.), published a paper titled "All of the Colours of Mobile Advertising 2021," created to help marketing specialists build and improve their mobile advertising strategy this year.
By Romanita Oprea
Right now, almost 2 billion people have access to the internet through smartphones – the equivalent of 51 percent of the 3.9 billion global users of mobile technologies, according to WARC. According to data analysed by the company, mobile has the potential to remain a leader in the tech space for the foreseeable future, especially in the context of the accelerated digitalization driven by the pandemic. According to data provided by IMARC Group, specialists estimate that the global mobile device advertising market will reach USD 269.1 billion by 2026. Furthermore, Retail Marketer expects 54 percent of all online shopping to be carried out via smartphones by the end of 2021.
But where does the Romanian mobile advertising & communication industry stand today, from a strategic and creative point of view? Ruxandra Papuc, executive creative director at McCann Bucharest, says that the industry is growing and the constant updates mean that we can never get bored. New media is popping up everywhere you look. From rich formats to new content models, everything we know gets reinvented on a regular basis.
"What needed to be explained two years ago is now the norm and answers to an increasingly picky audience. You need to be more relevant than ever and really work your brain off to be interesting. Entertainment is on the rise and, in my opinion, there will be a new era in advertising as purpose becomes norm," Papuc explained.
Pandemic did no damage
The mobile advertising & communication landscape proved resilient in the face of the pandemic turbulence, and a good example of this was an IAB Study which showed that mobile advertising managed to attract 60 percent of the total online advertising revenue in Romania last year.
At a time when consumers struggled with being stuck at home, social distancing and quarantines, mobile advertising seemed like a sure winner for both marketers and advertising professionals.
"During the pandemic, consumers turned to their phones for tasks and activities that they would have normally carried out in person. As a result, smartphones have become an extension of themselves, with constant interaction from the minute they woke up to when they went to sleep. With people spending an average of 3.44 hours per day online using a mobile device (We are social data, 2021), mobile advertising became an even more attractive space for brands, offering them the opportunity to create mobile-specific content that drives loyalty, engagement, entertainment, and cultural change," said Alexandra Tudor, senior strategic planner at Kubis.
She argues that mobile has been growing in popularity for some time now, but locally it has been recognised as a major industry disruptor only since 2017, when it became a must-have for any brand communication framework. According to Tudor, the pandemic has accelerated this pre-existing growth trend, with Romanians increasingly perceiving their mobile devices as tools for entertainment and shopping, rather than just communication tools. As a result, mobile suffered less than traditional media, with mobile ad investment still expected to grow both locally and globally in 2021.
Moreover, as Canopy CEO Eugen Predescu added, mobile devices are definitely the most popular in terms of online traffic at this moment. In most industries, over 75 percent of traffic comes from mobile phones. "It is crucial to develop mobile-first strategies for everything from websites to advertising solutions. Advertising platforms allow you to create different types of interactions with your customers. It is very important to create specific content for each device. All companies should personalise their strategies and content for mobile devices," he said. As a way to acknowledge the importance of this mix, Canopy started a partnership with the pastel agency that would help them offer customers the personalised experiences they are looking for.
"Getting more traffic is starting to get expensive and, in order to optimise their investments, companies are focusing on conversion rate optimisation. This translates into better experiences and solutions designed for mobile devices. Furthermore, online competition has increased significantly over the past two years, especially during the pandemic. This was one of the few positive aspects of this period. Thanks to this acceleration, all internet users are having better online experiences," Predescu noted.
What's next?
Looking to the future and anticipating trends, the McCann Bucharest representative believes that the best word to describe the phenomenon would be "exploration." "We're now looking at mobile communication from a more holistic perspective. We're eager to discover new features for the apps we use and push the boundaries of new formats as much as possible. We no longer have brainstorming sessions that don't involve a call to our Chief of Technology," Papuc said.
In turn, the Canopy CEO is seeing more and more businesses looking to build their own mobile apps. He believes that to be a big plus, but at the same time, he argues that company representatives must keep a few things in mind when thinking about adding an app to their portfolio. Questions such as: "What will be different from the mobile version of the website? How will customers migrate from the website to the app? How will we keep people who download the app engaged?" must all be on the list when developing a brand's mobile strategy.
On the other hand, Alexandra Tudor is looking towards TikTok and mobile gaming as the main factors of influence and change. She believes that in terms of emerging trends on the local market, TikTok is the social media winner of 2020. "The secret of TikTok's success was its ability to deliver positivity, humour, and entertaining content at a time of stress and discomfort for consumers around the world. Mobile audiences turned to TikTok to create "meme-able" moments that could help brands drive culture. A good example in this regard comes from our work at Kubis. #SarbatoareDinOrice, Pepsi's winter challenge on TikTok with Fuego, became a viral digital phenomenon that accessed Gen Z's pop-culture conversation in a relevant way," the Kubis representative explained.
Moreover, a recent study conducted by the Romanian Game Developers' Association found that 48 percent of all gaming users were women, almost on par with the number of male gamers. Female mobile gamers are casual gamers or "gamer moms" who are playing in their idle time. Capitalising on the gender equality trend, Gaming Marathon powered by Vodafone – the biggest online gaming event in Romania – wanted to challenge the "myth" of all male gamers and launched the #HerOwnWay campaign to show appreciation to all the women in the gaming world.
And yes, clients seem to be more open to mobile apps in Romania as well, with Papuc arguing there's no longer a barrier when it comes to discussing the idea. A few years ago, dropping the app bomb would take courage on all sides. Now, the market is more mature. "It's no longer just yes or no, it's 'let's find the strategic angle to it.' We also have a better understanding of the different types of apps and we can tell what has a better chance to be a hit," Papuc added. However, her opinion is not shared by Canopy's CEO when it comes to the strategic side, as he points out that the problem is that after an app is launched, there is sometimes no specific marketing strategy for it. "We often find ourselves in the situation where the advertising budget is 20 times smaller than the app development budget. It is impossible to get the proper engagement for an app in this situation," Predescu argued.
Alexandra Tudor notes that the rise of e-commerce during the pandemic accelerated the development of mobile payment apps as well, therefore brands started to redirect their attention from other channels to mobile. For example, UniCredit Bank saw a surge in the usage of mobile payments and offered consumers the Google Pay option – another type of payment experience that made purchases easier, faster, and safer.
Another good example that captures clients' openness to mobile apps is Lidl, who last year introduced a Loyalty Card app – Lidl Plus – that allows consumers to enjoy the retailer's latest discounts and rewards.
"To fully embrace the opportunity of crafting a successful mobile advertising campaign, we need to understand what's different about mobile and pay attention to the 5 Ps of mobile engagement: Presence (understanding the channels), Personalisation, Presentation (tailored for the small screen), Peer-to-peer (sharable content) and of course Performance. (WARC, The 5 Ps for engaging in mobile moments)," the Kubis senior strategic planner explained.
"The secret of a good mobile advertising campaign is smart, creative, and personalised content targeted in a performance-oriented way. From my point of view, the mix between creativity and performance can ensure the success of a mobile campaign. When you know who to target, on which device, using what formats and create different ad sequences that you can deliver based on specific scenarios, you can create mind-blowing personalised campaigns that can go viral and help you scale overnight," Eugen Predescu said.
Meanwhile, Ruxandra Papuc thinks that the main factor of success is insight, as nothing, no matter how funky or techy it is, will ever work without good insight. And consumer insights themselves have evolved a lot along with the mobile world. "Success comes from being relevant and offering something consumers need, in a surprising way," she concluded.