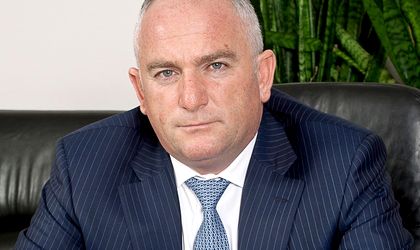 Over 30 years after entering the business world with just a 130-square-foot shop, the family-owned holding Cris-Tim marks the 21st anniversary since the launch of Săsesc salami with a special campaign dedicated to the company's most famous product. Since then, Cris-Tim, the market leader in Romania's deli meats sector, has sold over 76,000 tons of Sasesc salami, equivalent to 170 Boeing 747 airplanes. The central element of the campaign is a TV spot launched on August 14. Additionally, the campaign introduces Cris-Tim's new slogan – "Eat well, feel good."
In the spot, three major milestones of the Cris-Tim family business are easily identifiable – the first shop (1992), the launch of Săsesc salami (2002) through a famous commercial featuring Luiza Lucuță, when Cris-Tim brought to Romanian tables what would become the country's best-selling salami. And the year 2017, the company initiated changes in industrial deli meat production, becoming the first producer in Romania to launch a "Clean Label," with more meat and fewer ingredients.
"This new campaign is a manifesto of our continuous commitment to excellence and innovation. We knew 30 years ago that we wanted to be ahead of our time. From our very first kiosk and from our first customer. We have always had the courage to innovate, and we have managed to maintain the quality of Romania's most appreciated salami," said Radu Timiș Jr.
An exclusive Cris-Tim brand and a reference product in the range of boiled-smoked salamis, Săsesc salami is one of the most appreciated and well-known deli meats, accounting for about 12% of Cris-Tim's deli meat sales. Made from 97% pork and beef and seasoned with carefully selected spices, Săsesc salami is boiled and naturally smoked with beech wood. The product is appreciated for its unique shape and unmistakable taste, available in various weights ranging from 100g to 650g, alongside mini Săsesc salami (350g), spicy mini Săsesc salami (350g), and Săsesc gastro salami.
"With passion, patience, and determination, we have managed to keep Săsesc salami at the top of Romanians' preferences since 2002. Clean Label means complete transparency regarding the ingredients, manufacturing process, and technology used. Cris-Tim is the first deli meat producer certified Gluten-Free in Romania, and today over 80 of its products are certified by the Romanian Association for Gluten Intolerance (ARIG)," said Ligia Smadu, marketing director at Cris-Tim.
Also, earlier this summer, the Cris-Tim group, along with five other Romanian producers, was certified to export Sibiu IGP salami to the United States following a rigorous audit by the Food Safety and Inspection Service (FSIS) conducted in Romania. Obtaining this economically crucial accreditation for our country is the result of a joint effort by the six members of the Sibiu Salami Producers Association (APSS).
"We put safe and healthy products on Romanians' tables, based on good-quality ingredients with carefully controlled origins and characteristics. The Clean Label is our way of showing people that we offer them our very best. Without gluten, without starch, without MDM, without soy, without artificial flavors, and without added monosodium glutamate," added Ligia Smadu.
Founded by the Timiș family three decades ago as a small business, the Cris-Tim Group is today the market leader in processed meats and ready meals, also a significant player in the dairy and hospitality sectors. The group is also the largest Romanian player on the local market, serving 18 European countries, two of which are outside the European Union. Over 35% of exported products belong to the salami category, closely followed by sausages, bologna, specialties, and other sausages. Exports are a priority in Cris-Tim Group's growth strategy, accounting for over 12% of its annual turnover at this time.