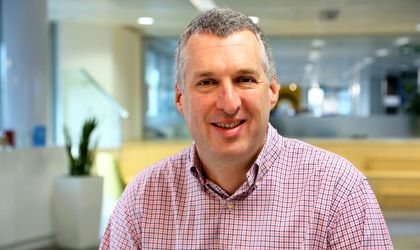 Richard Prankerd, COO EMEA at MullenLowe Profero, paid a visit to the Romanian office. This was a great chance for Business Review to get an exclusive interview with him to find out more about the agency's plans for Romania, the digital local industry, trends and strategy.
He is specialized in eCommerce, digital strategy, digital platform design and build, user experience design, new business start-up, agile scrum project delivery, program and project delivery, business and process modelling.
By Romanita Oprea
How was your switch from working as an entrepreneur to a big multinational? What made you decide to take that step?
At its heart, Profero is a very entrepreneurial company and will always continue to be.  Its development into a network of 12 offices that operate across EMEA, Asia-Pacific and the Americas illustrates this. The decision to become part of the MullenLowe network was because we saw clients moving to a position where they wanted their agencies to be integrated through the line. With MullenLowe we felt the cultural fit was right and that they would provide us with a platform to continue to grow the company in digital but also into a more integrated offer. The last two years have proven that this decision was the right one to take.
How has your start-up experience helped you along the way?
You never lose your entrepreneurial outlook, especially when you work in digital – technology is changing so quickly – creating new opportunities, changing the way you work and the services you offer to your client.  You have to continually work hard to keep ahead, identify the right opportunities and to keep the business current. It is an exciting place to be and we have a great team that is passionate about helping clients like Primark and Diageo to successfully transform their approach to digital.
We also sometimes get the opportunity to help clients start up new digital businesses and you have to be very entrepreneurial in order to make these opportunities successful.
How have the consultant days helped you in the new positions?
You have to have a broad business perspective to help clients with digital transformation as it touches all parts of their business.  Whilst we might be working with the marketing team, we also need to build bridges with IT, Sales, Finance and Operational teams to realize the digital opportunities. You need to be able to talk to people across the organization to understand their challenges to build trust in order to make the right changes happen.
As a business consultant you come face to face with a lot of issues and uncommon situations and you have to be able to manage the uncertainty. Also, you have a lot of responsibility regarding your activity, because there are moments when on your works sits the fate of others, who trust in you and your experience.
What is for you the most important award you received in your career and why?
The awards I am most proud of are the ones we have received for the transformational work we delivered for leading companies like ASOS and Primark. For ASOS we successfully created a new business – ASOS Marketplace, and we brought together a fantastic team of people who collaborated and worked with the client in a very integrated way to achieve a great outcome. This was recognized at the Revolution Awards when we received Best website and Best in retail awards.
Our work for ASOS led to the opportunity to transform Primark's approach to digital which was hugely successful and resulted in the team winning 3 awards including the Grand Prix and The Brand Republic Digital Awards.
How is helping you mastering Scrum in your COO position?
I have been working with the Scrum approach since 2004 when we realized that delivering digital platforms required new ways of working to get the best results.  Teams needed to be more integrated, more dynamic, more collaborative and more agile.  Given the rapid change in digital technology and experiences, long running waterfall projects were becoming out dated when they launched, so we made the successful change to use Scrum.
And this has continued to be the best way to deliver results quickly through high performing collaborative teams. We delivered ASOS Marketplace in 6 months and continue to push our clients to make transformation change within this timeframe.
How is Profero differentiating from the competition worldwide and what are your plans for the Romanian office?
MullenLowe Profero is a full service global network that will continue to expand with offices all over the world. We offer a holistic approach, combining media, communication strategy and creativity for our clients. Our end goal is to make brands more notorious and we can only achieve that if we manage to help our clients deliver the right message, to the right people, in the right way and at the right time.
Romania definitely plays an important role in the MullenLowe Profero network, as we came to understand that the market has numerous possibilities, you have amazing talent and creativity and we share the same goal of delivering quality for clients. From here on out, we only hope for amazing results and I, personally, am excited about the work that is going to come from these offices.
How far behind would you say that Romanian digital advertising is as opposed to UK?
It is naturally that UK is more developed when it comes to digital and advertising compared not only to Romania, but to many other countries. However, we should not think in terms of "how far Romania is" but "what potential Romania has". And there is a lot of potential in this country. Considering several key factors such as the bright, tech-savvy young professionals, who are also prone to be extremely creative, as well as the impressive internet speed in Romania, I'm confident that the digital trend will continue to develop and to be leveraged in many business fields. Besides, Romania has already given birth to some very interesting digital projects that are appreciated at international level and I'm sure UK will hear about Romanian digital advertising increasingly more in the future.
What do you think that keeps us from being there?
Digital advertising in Romania is developing on its own path. Of course, certain international models and trends should be followed or integrated, but the end goal is not to catch up on another country, but to develop an industry tailored for the needs and objectives of all stakeholders. The point will come when Romanian companies recognize that they need to invest more in digital in order to grow and maintain their business activities and the speed at which this happens is different across sectors.
What are the new trends in e-commerce for the next 2 years? How is Profero adjusting to them?
The speed at which change happens in digital is illustrated by users take up of smartphones and tablets and the impact this has had on digital experiences.  Most retail digital experiences are seeing over 50% of their user base access through mobile devices, so nowadays companies don't have a choice – if they aren't mobile friendly their customers will quickly move to a better experience elsewhere.
e-commerce is a sector where there is always a lot of rapid change going on but some key trends we see include:
personalising customer experiences based on better understanding of customers' needs
integration of channels to create omni channel experiences
mobile payments and the role of the mobile wallet
quicker and more flexible delivery services with same day delivery being the objective
using content to create richer experiences across all channels including social
more investment in data and analytics capabilities
How important is the strategy in digital nowadays?
Strategy has become more important than ever especially in digital. Today, it is not enough for clients to have a digital presence they have to know how to utilise all the different channels to best engage with their customers and to drive their business forward.  This is complex and challenging and clients need help to do this.
We are also finding that more companies are looking to transform their businesses using digital due to disruption by new entrants.  Strategy is essential to define their role in the new marketplace, their direction and how all elements need to come together to be successful.
This leads to very challenging briefs but ones that are ultimately extremely rewarding to work on.
About Richard Prankerd
Richard Prankerd founded Profero Connect 5 years ago with the desire to help the companies develop digital channels through which they could offer personalized experiences to the consumers. Today, Richard is COO Profero and his digital expertize has an essential role in the brand development, the creativity and the capabilities of the company. With Richard's help, clients such ASOS, Primak, HSBC, Virgin Trains or Barclays have entered the agency's portfolio.
Prior to that, Richard led the media and entertainment department of Conchango (now EMC Consulting), developing platforms such as The Irish Times, DMGT, Virgin Mobile, Marks and Spencer, Colt Telecoms, HBoS and Shell. He has also been working in consultancy for KPMG and has an MBA at Cranfield School of Management and is accredited in Scrum – a method of handling projects characteristic to the fast programming.