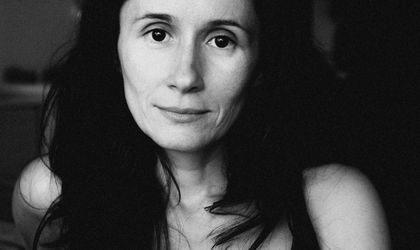 With more than 17 years of experience in retail, real estate and the hospitality industry, with extended competences in communication, loyalty, strategy, and management programs, as well as handling complex systems, but at the same time volunteer for different social causes, Raluca Mihaila launched Utopic Brain, a creative boutique for different clients that have in common one thing: they do good around them. More than that, she has 4 books published, the last one being called Glasvand, and is passionate about photography.
By Romanita Oprea
BR talked with Mihaila about her almost 2 years of freelancing and how has her previous extended experience in marketing helped her and influenced her path, as well as the current covid-19 pandemic and its influence on the marcomm industry.
What would you say that have been the most important steps and decisions you took in your career so far and why?
The benchmark of my professional choices was to never stick to what I had to do and always find ways to go the extra mile. It's part of who I am.
The second most important thing was to try and face my fears, up to the point of risking panic attacks. Although it gave me anxiety, it also provoked new ways of looking at life. From facing a vicious boss to denying my conformity to an unethical procedure, there were plenty of occasions when I had to confront my fear of unpopularity and job threat.
The third was to learn the lesson of saying NO. I learnt it the hard way, but it's important that I learnt it after all. I am still too young to be too late J. Plus, after understanding this, I realized that what remained as a YES was a choice worthwhile.
What determined you to choose your independent path and why did it happen precisely at that time?
The time I decided to take this step was in a moment of personal hopelessness about the probability of remaining authentic in a corporation with a heavily procedural environment and with the inability to capitalize on their people's talents. After having tried for more than 7 years to fit in, I decided that the probability was too low to handle. At the heart of who I am is a rebel wanting to learn how to embrace its freedom.
How would you characterize the marketing industry in Romania at this moment?
Shallow, consumerist and empty of meaningful or inspirational ideas. A shape without an essence. It's meant to solely sell, hence it remains sadly superficial.
There are a few exceptions, but, as they say, the exceptions only conform we have the rule.
How did you choose the name Utopic Brain?
It is a branding inspired by both my imagination and my limits. An imagination I want to challenge and a limitation based on my experiences, traditions, beliefs, desires which I also want to attack. We usually want what we can't have and once we have it, we forget to want it. I wondered if the missing piece in this behavioral flaw (and others) lies in the percentage of the brain we, humans, don't use yet. I am dreaming of an utopic brain able to give the answers for the questions we don't know yet.
Part of your philosophy is "Challenge patterns & clichés through borderless creativity ". Tell us more about it.
I don't like the big crowds or the packed roads, nor do I like absurd guidelines and how to's. Regardless of their obvious utility in everyday life, any additional procedural stiffness that comes on top of human rights, respect and common sense it's useless to me. I learn every rule just to see the breach I can break in order to better the process. I think life is too short and the world too big to waste our minds and senses on repetitive activities, identical places and uncurious people.
You have at present three directions you are focusing on: marketing, photography and writing. What is your main target for 2020 on each one of them and why?
I stopped making any plans for 2020. I think the moment we live now is about breathing in the idea that we might not, after all, control everything J. Luckily, my mind wanders a lot, so I take every creative new idea I have and put it into practice alone or with my clients. One day at a time, one idea at a time. This is the only plan for now.
You also launched 4 books. Where do you find your inspiration and how are you positioning yourself as a writer?
My inspiration comes from observation (of myself and of the people I encounter), introspection (I question everything and spend a lot of time alone in my head) and experience. All three of them come together in what are now a collection of a research on high potential people, a Socratic dialogue, a satirical fiction and a dystopia. I am not sure I know or want to position myself as a writer and actually, I don't think it's my place to do that. Plus, I don't like labels and once I'd have one, I'd probably want to escape it J. I want to believe that no writing piece is like the other. Oh, and one thing I can say about my writing is that it's not light and, at times, quite abstract J. I have an extremely troubled and restless inner life which I express throughout my blog for more than 11 years now. It's my unofficial hello to the world.
Your latest book – Glasvand is partly inspired by your professional experience. To whom is it addressed to and what do you wish from it?
Now, I see in Glasvand a mirror able to make you wonder if you're in the right (professional) place.
It is a book initially meant to be a post on my blog. I wrote it in an afternoon and then shared it with some close friends. To my surprise, I realized that was I wrote there was something people needed to read, so I considered publishing it. It is a satirical story supposed to be a nuanced and humoristic manifesto against any form of corporate abuse. The target are women in top corporate positions denying their personal and emotional discomfort for the purpose of maintaining their social status and financial security.
What I wish with it is to let people know that it's ok to be hurt by abuse, that they are not alone in this and that wanting to be genuine happy is more than a nice to have. It should be a priority.
How has the covid-19 pandemic impacted you and your business?
What inspired this period was a question to myself: does what I do still stands tomorrow? I am not sure about the answer J but I know for a fact it makes all the sense for me. And it seems like it also makes sense for all the partners I work with.
How do you think it will change you this experience for the future?
I hope it would teach me to let go.
What do you believe the marcomm industry will learn from it?
Nothing.
What about the market itself?
For companies:
Changing the conversation about the flexibility of work force (work from home, remote work, freelancing contracting instead of hiring).
Any change is possible when procrastination stops being an option. We can't do that actually means we don't want to do it.
Using a terrifying context for a personal gain is, eventually, penalized and kicked out. Opportunistic players should redefine their playgrounds.
Efficiency and innovation should be done on a daily basis, not only when needed.
For the general public:
Cherishing more our personal mobility which was, in my point of view, the biggest personal challenge we all faced during this pandemic. In a world where we have the right and possibility to move all over the world, suddenly we had to stay still for an indefinite period of time.
Hopefully, identify the authentic ethical GIVERS during these times and choose them as future informed clients. I am talking about companies which remained ethical and proactively involved into authentic CSR activities dedicated to maintaining the security and basic needs for as many people as possible.
What are clients, in your point of view, looking for at the moment?
Acts, not ads. And optimism, touching the ones they have to avoid, empathy, generosity, utility of the products of value.
What pieces of advice would you offer the marketing industry representatives right now?
To stop insulting their audience with valueless products.