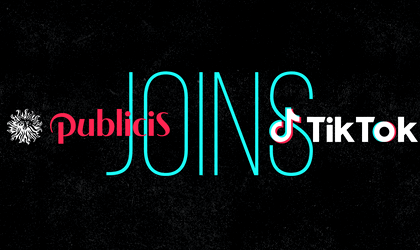 Publicis Romania signed a partnership with short-video content platform TikTok and will provide ATL creative and strategic services. The next step is to develop the first brand campaign in Romania.
By Romanita Oprea
"We are very enthusiastic for this collaboration. We clicked from the first moment with the creative and client service teams and we are looking forward to see the reactions, because we are preparing something totally unexpected together, something in which we trust a lot," said Laura Savu, Global Community Manager TikTok.
On her turn, Adina Albu, Senior Client Lead Publicis Romania, declared: "You have everything on TikTok. I like the vibe it brought in the agency, I like the relaxed attitude of the client, the ideas we are generating together. It is the ideal brief, it is the ideal work process and, if you also have a cool partner to discuss with, you can say you nailed it".
"I have been a TikTok fan since before the brief because, for me, as a creative, it is aspirational to see how creative can people get with a minimum context made available and even on vertical. The beauty of this brand is that, even if you don't like the app, you still want to work on the brief and, once you start work on the brief, you like the app also," also added Miruna Dumitrescu, Group Creative Director Publicis Romania.
TikTok is one of the apps with the biggest growth in downloads and users in the world. The app offers short format video content and makes available to the users creative tools through which to make their content viral. In Romania, the growth in TikTok usage was an exponential one, reaching to millions of active users every month, with ages of 13-34 y.o. that not only spend time in the app, but also create content