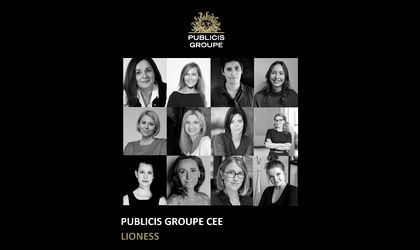 Publicis Groupe Central & Eastern Europe (CEE) today announced the launch of an initiative, in line with this year's International Women's Day theme, to embrace gender equity. Guided by one mission with three key actions backing it, the year-long initiative will launch across Publicis Groupe's offices across Central & Eastern Europe.
This year, the International Women's Day (IWD) campaign theme of #EmbraceEquity reinforces the message that gender equity is a necessity and not a nice-to-have; a focus on gender equity needs to be a part of every society's DNA and the importance on understanding the difference between equity and equality. The 2023 IWD campaign aims to get the world talking about: "Why equal opportunities aren't enough."
Taking the cue and guided by IWD's campaign this year, the Publicis Groupe CEE's initiative will zoom in on one mission to "build workplaces where women's careers thrive" creating an inclusive work culture where women's careers can flourish, and their achievements celebrated. This mission will be backed by three key actions:
Awareness (of Equality VS Equity) – Ensure that Publicis Groupe CEE's community comprehend the difference between equality and equity, why equal opportunities are no longer enough and why it is critical to understand, acknowledge and value this.
Education – Tapping IWD's "Lean in" researched-back programs to empower all teams with the knowledge and know-how to create inclusive workplace cultures and connect women with the mentorship and guidance they need to reach their goals.
Analysis & Action – To do an internal analysis of Publicis Groupe CEE's gender pay gap against each market's gender pay gap analysis to formulate an action plan and road map for improvement and tangible progress in the right direction.
"In the past two years since Publicis Groupe CEE has been formed, we have made conscious efforts to move things in the right direction, for our female leaders, female talent and more generally to create a more inclusive, diverse, and equitable environment overall. While I'm pleased to say that today, we have strong female leadership and a strong bench of female talents across our teams, we are mindful that more needs to be done for women and other communities. With this new initiative, we hope to take a more concrete step towards creating a culture and environment that enables and empowers all our talent – this will merely be the beginning of what we hope to do in the days and years ahead," said Tomas Lauko, Chief Executive Officer, Publicis Groupe Central & Eastern Europe.
Dovetailing the embrace gender equity initiative, the company will also be launching the first of its "Publicis Groupe CEE Lioness" series on the company's internal platform Marcel. Inspired by the lion in Publicis Groupe's brand identity, the Lioness series will showcase and spotlight its many female talent and leaders across the CEE region, celebrating their stories and the important roles they play within the company.
"We hope that the Lioness series will provide the next generation of female talent with strong female role models who are driving change and leading the industry," added Lauko.
PUBLICIS GROUPE CEE LIONESS SERIES 
Part 1
Maria Tudor – Chief Operating Officer, Publicis Groupe Central & Eastern Europe
Veronika Borbas – Chief Talent Officer, Publicis Groupe Central & Eastern Europe
Joana Andrade – Chief Financial Officer, Publicis Groupe Central & Eastern Europe
Helga Sasdi – Chief Executive Officer, Publicis Groupe Hungary, Co-Lead, Publicis Le Pont
Alla Malinovskaya – Chief Media Officer, Publicis Groupe Adriatic
Dagmara Witek – Chief Creative Officer, Publicis Worldwide, Poland
Alexandra Dimitriu – Chief Media Officer, Publicis Groupe Romania
Aleksandra Dilevska – Chief Executive Officer, Publicis Groupe N. Macedonia & Croatia
Vessela Apostolova – Chief Executive Officer, Publicis Groupe Bulgaria
Elena Bakum-Ramola – Leader of Communication Business, Publicis Groupe Ukraine
Barbara Grabiwoda – Chief Strategy Officer, Publicis Le Pont
Nikola Foktová – Creative Director, Leo Burnett & MSL Czech Republic