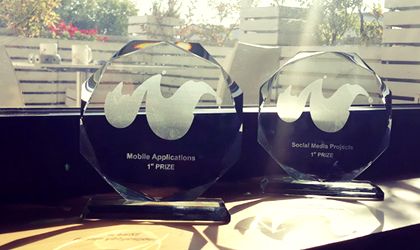 Profero, MullenLowe & Golin collected five awards at Webstock 2017, being the group with the most agencies awarded at this year's edition of the festival. During the gala that took place on Friday evening, Profero was recognized for the best mobile application, developed for Orange, MullenLowe had the best social media project, made for ZIZIN, while Golin received two important awards alongside VEKA and smart.
"Digital is a bet our group made 10 years ago, in which we have constantly believed and invested important resources, thus the performance of having three different agencies recognized on the Webstock stage confirms the success of our vision. Our satisfaction is even higher considering that the most appreciated campaigns were made alongside top clients from key industries, with whom we have had long-lasting partnerships, with very good results," says Veronica Savanciuc, president & CEO, MullenLowe.
Continuing the last years' tradition, Orange and Profero have won together new important awards in the technology and creativity areas. The best mobile app was selected 4G MegaHunt, with which Orange clients can hunt net bonuses by their own, anywhere in their city, testing this way the advantages of the largest 4G network in Romania. Moreover, Profero won the third prize at Social Media Projects with #inMyAccount – a series of video episodes made with the support of Sector 7 comedians to present the benefits of the Orange My Account app.
The Webstock jury decided that the best social media project is The never ending day of Giraf,  developed by MullenLowe for the mineral water brand ZIZIN. This included an animated reactive mini-series in which Facebook users could decide the sequel of each episode.
Golin got on the Webstock stage this year also with two campaigns. Thus, The Atlas of Beautiful Romania from our window, made alongside VEKA, won the second prize for Best Use of Photography. The campaign brings together a collection of photos that capture the emotional side with which users resonate – the beauty of our country, as well as the benefits of VEKA's products. Also, at Influencer Campaigns, the third prize was won by  Let's #getsmarted!, a campaign developed by Golin for smart to promote the new electric drive model within the Electric Castle music festival.
Romanita Oprea