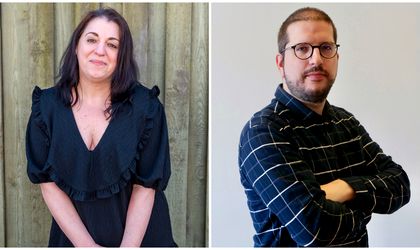 Wunderman Thompson, a WPP agency, recently launched its annual Future 100 report, lifting the lid on the trends expected to shape the coming year. The report was developed by Wunderman Thompson Intelligence, the agency's futures think tank and innovation unit. These wide-ranging trends highlight creative innovations which are set to go mainstream, along with shifts in consumer behaviour, across 10 different sectors.
By Romanita Oprea
The entertainment industry is turning its attention to game-tainment, a new breed of cinema. Gaming is drawing record numbers of players and spectators. The Sims 4 game, for example, hit a peak of almost 10 million monthly active users in the second quarter of 2020, with 2.5 million joining in May and June. On July 1, 2020, more than 160,000 viewers tuned in to watch popular gamer Ninja play Fortnite on YouTube. Moreover, as Wunderman Thompson's report shows, gaming has been steadily growing in popularity and influence over the past few years, with far-reaching impact: spurring a new league of game-fluencers, informing luxury retail, serving as an outlet for wanderlust and wellness, and even as a platform for activism. But now, with playership skyrocketing and Hollywood production on an indefinite hiatus, new big brand investments are elevating game-tainment into a primetime attraction.
One may wonder though: how will this trend grow and evolve and why? According to Cristina Blanaru, business and communication specialist at Code Name and founder of AdHugger.net, it was high time this became a trend. "We've had game-tainment for at least 15 years, since the time when it was only appreciated by a handful of nerds staying up at night to kill pixel-made monsters. That's when the very raw draft of game-tainment first appeared. There were star players who became influencers in a nerdy world. Then nerds and gaming came into fashion, the tabu around them vanished, interest in games increased, and now we're seeing gaming on stage, in the spotlight, as opposed to the old days' basements and rooms with the curtains pulled down," said Cristina Blanaru.
It became obvious to her quite early that gaming would be the new entertainment source, and she thinks the rise of e-sports and YouTube stardom has only helped brands acknowledge the opportunities this channel offers. And it only took a few brave visionaries taking the risk and using games and gamification to launch a whole new way of doing things in the "new" marketing.
"Primetime game-tainment was around back in the day through Wheel of Fortune or similar shows on TV. But that was the old format. Today's primetime isn't bounded by time slots any longer, it's all about the internet, full time interaction, games for entertainment, and gamification for motivation. And a whole galaxy of options and opportunities for consumers to find the products best suited to them and for brands to reach the entire world in a very detailed and highly targeted way. The concept has existed for a while, and there are plenty of people who haven't watched TV for a long time but who have a selection of online entertainment consisting of Twitch gaming broadcasts and YouTube walkthroughs or streaming anything and everything on one platform or another. The only thing that remains to be done is to update the dictionary," added the Code Name representative.
According to Ioan Daescu, PR director at Daescu Bortun Olteanu, though games were already extremely popular a year ago, the pandemic has accelerated the status of gaming as the king of world entertainment: video games have become the most intensely "consumed" entertainment products in the world, with the gaming industry surpassing in value the music and sports industries combined on certain markets (such as North America). But as he points out, what will make video games win in the long term is the fact that they are no longer simple games, but they've become platforms where you can watch concerts of your favourite artists or enjoy film festivals. Games like Fortnite are already competing with major streaming platforms. Last year, Fornite hosted virtual concerts by Travis Scott and DJ Marshmello and the trailer for Christopher Nolan's "Tenet" premiered on this platform. In February, we saw another premiere: Fornite was the first game to offer the community a film festival, which screened some of the best animated short films of the recent years, Oscar-nominated or BAFTA Awards titles. For filmmakers, it is a huge opportunity because these films would have had a very hard time reaching such a large audience.
"On the other hand, non-gaming platforms also want to create bridges between the mediums. The Tribeca Film Festival will include video games in the line-up of future editions and it will launch a category to award the best releases of the year, thus reiterating that video games are artistic products. Therefore, we can say that video games are no longer just about gameplay; they are extremely culturally complex media, where people enter, make friends, form communities, enjoy concerts and movies, maybe even set up business meetings. All on platforms on which they also play. I believe that games will be increasingly used as social links, they will bring people closer together and many will be launched in the future with this goal of improving and encouraging social experiences between families and friends," Ioan Daescu added.
"Where there was once a clear delineation between media, there is now a blurring of the lines – stories have become games and games have become stories," said Jane Rosenthal, co-founder of the Tribeca Film Festival and Tribeca Enterprises. And other leaders in entertainment agree and support the move. In July 2020, Sony announced a massive investment in Epic Games, the creator of Fortnite. The USD 250 million investment gives the entertainment giant a 1.4 percent stake in the gaming company – and foretells a growing crossover between the silver screen and the computer screen. "Sony and Epic have both built businesses at the intersection of creativity and technology, and we share a vision of real-time 3D social experiences leading to a convergence of gaming, film, and music," said Tim Sweeney, founder and CEO of Epic Games. Bringing this vision to life, Sony and Epic jointly announced a new immersive reality concert experience at CES 2021, debuting on PlayStation VR and Oculus VR later this year.
Pandemic influence
Around 3.4 billion people globally play digital games, according to WARC Data. Gaming audiences are becoming older and more female and are increasingly likely to play on mobile devices rather than PCs or consoles. The video game sector is projected to hit USD 189.3 billion in 2021, which is higher than the combined value of the four largest pro sports leagues in the US. The esports tournament for Dota 2: The International had a prize pool of USD 30 million, three times larger than the Super Bowl or Masters Tournament.
"Moreover, due to the pandemic, even the World Health Organisation changed its attitude towards games compared to 2019. A year before, the organisation considered video games to be harmful to young people, but in 2020 it reversed its decision, arguing that video games are an important weapon in the fight against the coronavirus. The WHO also launched a campaign with big names in the gaming industry, such as YouTube Gaming, Activision Blizzard or Twitch, to encourage people to use video games to socialise and stay safe at home," Daescu explained.
"Gaming is a natural fit to fill the entertainment gap now and post-pandemic. It keeps players entertained for hours on end and offers a social environment to connect with friends and strangers. However, what's unique about gaming, particularly when viewed through the game-tainment lens, is that some of the most popular games have managed to create the beginnings of a metaverse. For the uninitiated, the metaverse is a hot topic in Silicon Valley and refers to a shared, virtual space that acts as its own always-on world with items for purchase and exclusive content to consume," wrote Itamar Benedy, CEO and Co-Founder at Anzu, for The Drum.
How will it play out in Romania?
Bringing it closer to home, Cristina Blanaru stated that as far as she knew, Romania has never lacked gamers, people with an appetite for varied types of content and entertainment or internet literate people. Therefore, primetime game-tainment is bound to be on the rise soon, as it is already nearly there. "It just needs to become a little more popular. And that will happen when ad budgets are redirected with a brave push prioritising the new channels rather than the old (digital versus analogue) and with a proper segmentation of targets resulting in tailored messages. If one does that, success will definitely come," Blanaru argued.
Ioan Daescu believes that the video game scene is booming in Romania, with big gaming festivals such as Bucharest Gaming Week and Gaming Marathon, esports events like the Romanian eSports League or Digital Crusade, local video games studios that are contributing to developing big international titles, and many gaming content creators who are building big communities. It's therefore not surprising that in February, an UK-based firm ranked Bucharest third among the best cities in the world for gamers, after Austin, Texas, and Seoul, South Korea. The new gaming era means that video games are turning into ecosystems for people to play, have fun, and be socially active.
"The growing exposure of the industry and video games also means a greater exposure and visibility for content creators, the gaming influencers. In recent years, they have become top sources of information and entertainment as well as role models for new generations, as young people are moving away from traditional media like TV. This exposure will certainly encourage creators to provide quality content for their communities, promoting healthy values. We need to validate and support creators who stand out not only through an overflow of energy and great gaming skills, but also through proper discourse, a good grasp of the videos they make and, last but not least, a positive attitude. There are many names that deserve more recognition and visibility, who can become role models for generations of young people, using their platforms to create safe spaces for entertainment and dialogue about their shared passion: gaming," said the Daescu Bortun Olteanu representative.
But how is this trend changing the manner in which companies are communicating in this field and how important is the input of a specialised communication agency? "Game-tainment can be seen as a part of the 'fluffy' side (communication) or part of the heavy lifting (the hardcore business strategy). Yes, you can make some interactive games and call them game-tainment, cross your fingers and hope that a game with basic features and a little branding will deliver for you on the business side. And for that, any decent digital agency can deliver a relatively well-made game and a good PR agency will make some noise. But businesses need the buzz to get translated into sales," said Cristina Blanaru.
Smart companies also use games, but that's because they have gamification embedded within their marketing strategies and already use at least one form of gaming/playing to maintain the interest and loyalty of their consumers. "To gamify a business and add to it a playful side that can translate into financial gains, one has to have in-depth knowledge of everything that moves inside that company. As far as I know, full agencies offering tailored gamification services to improve customer journey do not actually exist, but there are a handful of specialists who are doing wonders in the field under contract, silenced by heavily-lawyered non-disclosure agreements," Blanaru added.
Furthermore, in Daescu's opinion, gaming is the new frontier of brand communication. The gaming ecosystem is complex and complicated for brands and there are countless opportunities. The role of a specialised agency is to guide and to "educate" brands in communicating as naturally as possible with people who play video games, a very demanding audience. "One concrete thing that I see changing in the near future is that brands will no longer use the term 'gamers' when talking to and about this audience. The term 'gamer' is losing its substance because I don't think there are people around us who have never played a game on a PC, console or mobile phone. And these people who are playing video games certainly have other interests too: they may run, draw or watch TV shows on streaming services. The 2020 RGDA study found that there were almost 8 million Romanians who played video games, of which 52 percent were men and 48 percent women," Daescu concluded.