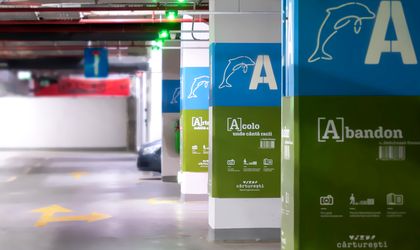 In partnership with Veranda Mall, Cărturești is launching #Parking Bookmarks, a unique bookstore campaign to promote reading by transforming the shopping mall's underground parking lot signage into discount vouchers for books.
Until August 2nd, the underground parking spaces from Veranda Mall look different. On each pole, the usual landmarks have been replaced with book titles: A for Abandon by Abdulrazak Gurnah, B for Black Beauty – Anna Sewell,  C for Circe – Madeline Miller. Drivers are invited to park their car in front of the book they would like to buy and take a photo of it with their phone. Then, they need to go up to the bookstore, where, based on the barcode in the photo, they will receive the book of their choice at a special price. The selection of specially discounted titles includes fiction, essays, memoirs, stories for young children, and personal development books.
The campaign is a further step in Cărturești's initiative to bring books into everyday life using original ways to raise awareness for potential readers. In fact, at the opening of the bookstore in Veranda Mall, for a week, Cărturești rented a stall in Obor Market, where it sold books among fruit and vegetable vendors.
Reading is a habit that is developed over time. It often takes a reminder to bring the book to our attention instead of the screens we surround ourselves with. That's why, with this campaign, Cărturești has aimed to remind readers of the multitude of books waiting for them in the bookstore, ready to open up new worlds. In this way, we hope to encourage more children and adults to get closer to reading and enjoy its benefits. – Ana Niculescu, Communication Manager Cărturești
—
The most challenging and sometimes amusing part of the mall shopping experience is the underground parking. It has happened to all of us that we can't easily remember where we left our car. What was the number? Which letter? There are a lot of details to remember. Because of this, most of us have made a habit of photographing the pole next to where we parked. When we worked for the campaign, we thought we would give this "struggle" of memory a beneficial role. We wanted to transform the unconscious reflex of taking a photo on arrival into a voucher, so that it could be more than just a guide when we return to the car. So we've turned the car park into a big library of famous book titles, which you can buy at a special price. A simple and memorable twist from utility to rewarding brand experience, dedicated to encouraging reading. – Andreea Golban, Senior Copywriter VMLY&R
The concept and strategy of the "Parking Bookmarks" campaign belongs to  VMLY&R Romania. The agency's team: Bogdan Teodorescu – Creative Director, Andreea Golban – Senior Copywriter, Bianca Dragu – Senior Art Director, Denissa Mic – PR Director, Mina Ionescu – Business Director, Raluca Dinu – Account Director, Irina Matei – Account Manager, Dorina Sandu – Senior DTP, Ionuț Iacobache – Production Manager, Simona Chirițoiu – Traffic Manager.