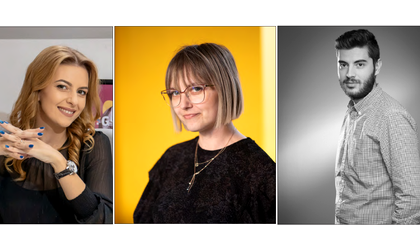 According to an eMarketer study, global online sales will total USD 6.5 trillion by 2023, and Romania is among the best countries where one could open an online business, ranking 39th out of 99 countries in a recent study.
By Romanita Oprea
The success of online businesses also leads to major gains in other sectors which are closely related. For example, Denmark has developed a strong infrastructure of internet servers to sustain its online business environment. According to available data, Denmark has 277,000 internet servers per 1 million people, and it is the country with the second highest share of internet users out of the total population.
Switzerland ranked second among countries where it's best to start an online business, due to its high GNI per capita. The Netherlands is not far behind, thanks to its high internet speed. The US has 87 percent of its population using the internet for various purposes, while a large majority of people in Norway and Sweden have use the internet to make online purchases and pay bills. Singapore's internet speed reaches 229.42 Mbps, making it the only country in the study to exceed the 200 Mbps threshold. Germany, Canada, and Luxembourg are also among the countries where online businesses thrive.
Many of the 99 countries here online businesses are most successful are located in Europe. However, entrepreneurs in these countries must pay rather high corporate taxes, so the high internet coverage and speed are among the top factors contributing to the growth of online businesses in these places.
Like in any other country, the experience of starting an online business in Romania has its ups and downs. Thanks to their online expertise, Romanian companies today are accessing markets that were difficult to reach in the past and they're using online marketing tools to identify their target markets and implement strategies to reach them, in order to grow.
Collecting customer data during shopping sessions has proven useful for Romanian e-commerce platforms as it helps estimate the market's demand for products. Price tracking software is also heavily used, with Romanian online businesses always trying to offer better prices then their competitors, which creates a healthy competitive environment. Although online retail took off due to COVID-19, obstacles still remain, with many potential customers still distrustful of online shops.
Despite the economic hiccups, most of which are generated by political instability, Romanian entrepreneurs have managed to build successful online businesses, which explains the country ranking 39th in the above-mentioned study. Top retailers and digital platforms that have actively contributed to boosting Romania's online business sector are eMAG, OLX, Altex or Elefant, just to name a few.
Dragos Andronache, head of digital at United Media Services, noted that e-commerce soared in 2020 as the pandemic accelerated the adoption of digital tools. As physical locations closed down, sectors like retail and restaurants shifted focus to their digital assets. "We can easily say that in less than 10 months, this pandemic led us to do what we normally would have achieved in a minimum of two years. From a digital perspective, the growth of e-commerce will continue at the same rate, and this will further boost other territories such as Data & Analytics or SEO. In general, the media market will go through a recovery phase in 2021, driven by rising digital ad spend, but also by the stabilisation of TV ad investments, which still hold the largest media share," Andronache argued.
In turn, Raluca Berceanu, regional business director at MRM//McCann, says that if she were to point to at least one good thing to come out of this pandemic, it would be the fact that we jumped headfirst into digital transformation. Whether it was commodity companies that needed to connect people's data to bulletproof security systems overnight or even pawn shops that strived to collect payments online while physical access was restricted, we all faced one big challenge – doing as much business as we used to while our clients were not leaving their homes.
"We are now seeing a plethora of online implementations of day-to-day business practices, and while we're still hoping to 'go back to normal' after restrictions are lifted, we all assume that none of these investments will have gone to waste. In short, online business is here to stay. And in this post-pandemic hunger, being smart and nimble about how we sell and offer consulting online is key. What we all discovered last year was that every company should be an online company. Those who can't sell remotely and are still waiting for things to return to what they were like before will eventually shut their doors," she added.
Guided by the future
Taking a look at what might happen in 2021, Berceanu of MRM//McCann believes we're slowly moving towards the end of our 7 stages of grief experience that came after we lost most of what we knew about marketing. "We started with the shock and denial around the online-only reality, then came the pain and guilt of not having implemented certain mar-tech tools when we had the chance, followed by anger and bargaining caused by having to digitally transform overnight. There was the fall depression when we realised restrictions and loss were not over, but peaking again, before another downward turn. We're now re-engineering what we knew, what we had. This is what 2021 is about – for digital as an industry and for marketing as a practice," Berceanu explained.
According to Grapefruit managing director Georgiana Dragomir, any product or service adoption curve always has its laggards – people who refuse to adopt something new unless they're left with no choice. And the pandemic has given this type of people no other option than to adopt digital services. "But this happened on both sides, not just for customers; companies that were refusing or postponing the adoption of digital tools were forced to invest in them last year. There was plenty of improvising in 2020, as companies developed new platforms and functionalities in a rush to adapt their services to the context. Companies are going to have to decide which digital services to continue to invest in and which ones were developed in a rush, are not sustainable, and should be terminated," said Dragomir.
As for the idea that once the pandemic is over we will all go back to "normal" as we knew it, Dragomir thinks that won't be the case. The accelerated digitalization that occurred in 2020 changed the way we expect companies to serve their customers. "As an example, since you can now go online to obtain certain documents from public institutions, people won't go back to standing in line once the pandemic is over. 2020 raised expectations around customer experience, and digital transformation will continue to advance inside companies," the Grapefruit representative noted.
Taking it further, Berceanu argues that in 2021, every pitch should be a digital pitch. "All partnerships should be built on honesty and fairness, with data science to study the holistic customer journey and digital integrations to provide business continuity in times of unprecedented change," she added.
What about the digital media and advertising industry? According to Dragos Andronache, digital media saw an overall increase, with video and programmatic as the main growth drivers. Other areas such as podcasts or programmatic audio are also starting to gain momentum and we expect a significant further growth in 2021. "The pandemic blurred more of the lines between traditional and digital media: more people are listening to online radio, reading news on digital newspapers or watching their favourite movies and TV shows using video streaming services.  Our main focus was to deliver high quality and personalized services to our partners, and even higher efficiency, but at the same time we managed to start new partnerships, mostly with companies in the e-commerce industry. Time is the most important currency for us and for our partners, so we have an extended team with certified specialists in Digital Strategy, Performance Marketing, Programmatic, Data & Analytics," Andronache explained.
2020 turned out to be a year of growth for Grapefruit, as the user experience & digital agency based in Iasi and Bucharest doubled its employee count, added new clients to its portfolio, and embarked on some complex new projects. "Surprisingly, we saw continuous growth despite the difficult context. Budgets for digital services increased and we had more revenue coming in across most areas. We also witnessed an incredible boom of the digital industry. With all eyes stuck to digital screens, of course companies wanted to move towards their customers. If customers are on digital channels, brands' communication will move to those channels," said Georgiana Dragomir.
MRM//McCann has been on a growth path for several years now, and not just because of businesses shifting budgets towards the digital approach, but mostly because the agency has expanded its expertise into emerging areas as the years went by. Sensing that the digital sector is shifting towards a certain direction is something that every good specialist should be able to do, but the true power comes from developing these skills before they even become "a thing": preparing for the storm before it hits. "It's what we did years ago with the digital B2B practice. While we were the number one agency in terms of creativity and activation, we also enhanced our capabilities for always-on, nimble, and effective operational offerings for managed services and field marketing implementation. Therefore, when regional clients asked for large scale operational models, we were ready to deliver. And 2020 came with challenges of many kinds. It wasn't our business that was hit, but the way our partners viewed the future – from asking for campaigns and platforms with clear briefs, many turned to asking for digital business coaching. From asking for digital communications and tactics, they turned to asking for the digital re-engineering of their go-to-market strategies," Raluca Berceanu said.
And this is where creativity becomes crucial. MRM//McCann has always said that creativity is the only way to survive and thrive. This means that everyone's job in 2020 was to come up with creative solutions to business problems. "We could not fix the pandemic, but we could definitely use creativity to fix the way companies sold online and interacted with customers across all digital touchpoints. It's what we did for KFC, with our Killer Discounts campaign. Clients were engaged in gaming, so instead of just celebrating their passions, we transformed our promotional mechanisms and the entire experience to go beyond their expectations," Berceanu added.
Everyone expected digital to thrive. "But I believe that digital being a separate practice is finally dead. There is no digital practice that happens entirely away from business, so what we saw in 2020 was a shift from niche agencies and consultancies and digitally-led service providers to a more holistic approach, where the digital function should stay for good. We're now seeing big corporations internalising very complex digital ecosystems, consultants talking about e-commerce and data science, brand agencies thinking digitally first. And this is a natural evolution towards a universal digital understanding. But then there's us – the agencies that were born in digital but grown into business re-engineering consultants. We used to call ourselves Digital Industry specialists, but we've turned into Business Coaches for total digital transformation. All our clients used to do online advertising, but how many of them also did business online as well, using fully integrated systems, data, and processes?" MRM//McCann's regional business director concluded.
2021 trends
Georgiana Dragomir, Grapefruit:
"More offline activities moving online. Last year accelerated this process, but the trend will continue. People we call essentialists are those who, after a period of introspection and going through certain events, are able to realise what they truly need. These types of people tend to focus on products that are truly important for them and value quality over quantity.
People who are trying to escape reality or seeking comfort as these unprecedented times have made us feel like we've lost control go into a second category: the escapists. They are customers who, for example, may still be buying clothes even if they're working from home, because they want to feel put together or stick to the routine they had before. This pandemic will continue to affect individuals even after it ends. It will influence their decisions and could even change some of their values and habits.
In terms of technology, I believe AR will become mainstream. Companies are investing more in this technology (e.g. Apple is much more focused on LiDAR than before), and I can't wait to see what's created next using this technology. We can also see an increase in virtual assistants, chatbots, and systems that help you interact with a device besides the traditional keyboard and mouse/touchscreen. It will humanise the way we interact with various systems.
Brands will have to show more transparency and humanity in their communication. This will allow them to have a more empathetic connection with their customers and genuinely address their needs. And, of course, it's essential to have the right culture, processes, and tools in place to deliver on promises and avoid possible gaps."
Raluca Berceanu, MRM//McCann:
"More companies will adopt stances on current societal debates. Forrester predicts that trust, safety, and inclusion will be at the core of customer experience in 2021. So, while we'll play our role in digital transformation for our country and region, we are also invested in giving everyone a voice. Equity and diversity are some of the topics that are just as important as strategy, creative, account leadership, and production, and transforming this into a discipline is mandatory; it will influence not just the way we work together, but also the products and solutions we create for our clients and partners.
Another trend emerging from streamlined digital experiences is flexibility in terms of time and location when it comes to the modern workplace. While enabling employees to work remotely has become common practice and will continue to thrive throughout this decade, the real transformation in collaboration lies in the tools and processes we've digitalized, as well as in the flexibility of the time frames when employees are expected to actively work. We expect back-to-back calls to be replaced not with live meetings, but with modern productivity tools, like Teams-as-a-platform being used alongside apps and communications in flows that make sense. Finally, my favourite trend this decade is reskilling. This new normal means that we care for our souls, our balance, and our spirit, while developing new skills that the world needs."
Dragos Andronache, United Media Services:
"We're seeing a continuous increase of digital media, especially in programmatic video and audio. Platforms like YouTube, TikTok or Spotify will drive significant digital growth alongside emerging social platforms like Clubhouse. At the same time, companies are exploring new territories around digital media, such as Data & Analytics or Automation. Last but not least, as AI becomes more accessible, it starts to be applied to digital marketing, helping advertisers better predict the next effective action or understand how to deliver relevant content."