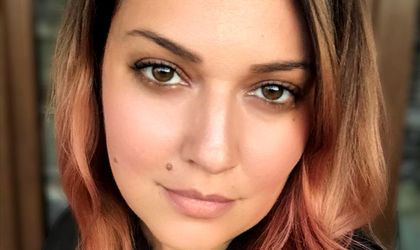 Eastern Europe Consultancy of the Year 2013, most awarded Romanian PR agency, #13 in the world in PR creativity (Creative Index 2012), PR Agency of the Year in Romania (2015, 2016), MSL The Practice is one of the famous PR agency on the Romanian market.  BR talked with Oana Bulexa, Managing Parter, about 2018 and what to be expected from this year, major trends and best campaigns.
By Romanita Oprea
After a solid career in journalism, with 4 years in print media and television, and several enriching experiences in direct marketing and PR, in 2007 she became one of the first employees of the agency which she is currently running. Along the years, Bulexa has been engaged with work at strategic, supervision and implementation level in numerous communication campaigns, for more than 100 clients from various domains such as FMCG, retail, real estate, IT&C, automotive or financial.
How was 2018 for the agency?  
It was definitely the best year in the agency's history, and not only in terms of business results, but especially in terms of expansion with new practices, of winning new clients and of doing some ground-breaking projects.
What was the situation like for pitches?
2018 was a year with many "new entries", especially from professional services, manufacturing and industrial sectors – companies that had never invested properly in communication and started to look for a trusted partner. It's safe to say there were more pitches on the market compared to the previous year. In 2019 this trend will definitely continue.
 However, there is still a lot of work to do in terms of properly organizing a selection process. We talk a lot about transparency in this industry, but when it comes to pitches, transparency is many times the opposite of what you get. Any serious agency would have a due diligence process in order to determine whether it should or should not participate. The lack of information (from an accurate brief to clear selection criteria, or list of participants, or decision deadline etc.) makes it more likely that agencies decline participation.
Same goes for pitches involving 10 (or even more!) agencies or pitches that require a high resource-consuming effort, ending in a very small collaboration. It's not productive for any part. And it alienates serious participants.
For all clients who want to run a pitch properly, the Pitch Guide prepared by the Romanian Advertising Association (UAPR) is a great tool. It helps clients make sure they maximize their chances to end up with a great communication partner.
How would you characterize the local communication industry in 2018 in terms of budgets, campaigns, creativity, etc? 
I would say 2018 was a year with many good campaigns, but no so many outstanding ones in terms of creativity. But then again that's something I also noticed at international level, during my experience as a juror for Cristal MAD festival 2018, in the PR jury.
In terms of budgets, many clients have increased their investment in PR. Another good news is that more of them understood that they should invest in campaigns rather than in small, tactics spread along the year, which is a particular challenge in PR.
What were the most important changes & novelties in the agency in 2018 and how did they come to happen? 
2018 was a year of expansion in terms of new practices and services, we also increased our strategic work for international clients and consolidated our team of senior people. Many of these changes have not been announced on the market yet, because we wanted to build strong and gain solid expertise first and then talk about it, so you can expect more details this early spring.
What were your most wanted services by the clients in 2018?
The most significant increase we saw last year was in Reputation Management & Corporate Communication, in Employee Communication/ Employer Branding, with clients coming to us with more and more sophisticated briefs. Also most-wanted was Content Creation, from branded content to video and photo content, especially for Consumer Marketing and Sustainability assignments.
How is MSL The Practice positioning on the Romanian PR market?
We are the public relations and integrated communications partner for our clients, because we provide them strategic counsel and creative thinking while engaging multiple stakeholders.
Our recognition record is unparalleled on the Romanian market: MSL The Practice is the most awarded PR agency in Romania and the only one four times awarded the title of PR Agency of the Year.
Together with our sister agencies from Publicis Groupe Romania, the largest communication group on the market, we definitely have the most compelling strategic services offer that a client can access.
What were the biggest campaigns you worked on?
2018 was a hell of a ride in terms of great projects. Here are some examples:
The Human Heart Hologram (MedLife), which continued the break-through technology approach from the previous campaign Technology of Tomorrow (a winner of 12 global, regional and local awards already), this time with a custom-made experience for stakeholders and general public, by bringing people inside a medical surgery with the help of a phone or tablet. It provided a human size reproduction of the intervention by using an advanced automatic virtual environment system and the most detailed & fully digital representation of how the intervention is actually done – an amazing opportunity for students and graduates to see what is actually happening inside.
Equality works better (IKEA), which helped placing the topic of gender equality on the public agenda, engaged authorities, NGOs and internal stakeholders, proving that brands can change perceptions and contribute to a better society. It was one of the few campaigns generated by companies that ever gained the attention of the Romanian President Klaus Iohannis, who endorsed it officially. It's a long-term engagement from the company and this year, we will take it to a higher level.  
Timisoreana 300 years – Rediscover the good (Timisoreana), which was a great opportunity to engage in an emotional conversation with consumers about values that Romanians care about. The campaign gave the real expression of selfless kindness and discovered a variety of examples of what GOOD meant and still means for Romanians. 
Casa di Peroni (Peroni Nastro Azzuro), which is already a traditional, complex, annual project, bringing the Italian flavor and state of mind in Bucharest. This year's edition had outstanding results after a 7-week marathon with 12 activations gathering more than 450 guests and engaging media and influencers.
Stream Your Dream (Samsung), an extensive platform dedicated to the micro-influencers in different areas, aiming to offer the participants relevant information and best practices models under the guiding of the best and most renowned specialists in every interest area.
Story of a Home (Storia.ro/ OLX Group), a 12-month branded content project done in partnership with A-list magazine, which opened the door to the most exquisite celebrity homes in Romania and told people the stories of these homes, helping them to understand more about interior design, to find inspiration. Storia.ro & A List Magazine revealed how to express your personality through your home and how to choose the right kind of design, all by watching incredible dressing rooms, reading corners or makeup rooms. This brought more than 58,000 social interactions and over 7,000,000 views.
I will stop here but I must say that mentioning only a few campaigns doesn't do justice to the amazing work the entire team has done last year.
What were the campaigns you admired in the local industry and why?
That would be "Traiasca Capra Vecinului!", which proved to be the perfect campaign in a centenary year. Honestly, it's a campaign the entire Romania need to hear about and learn from, because we Romanians need to focus more on our own business than mind what others do.
Also, a campaign that I liked was "No Romanian Left Behind" signed by Telekom, it was a very smart, nice and simple execution that did great justice to the client's brief.
What trends did you notice on the local market? 
The rise of influencer marketing is the first worth mentioning, 2018 was the year when this trend became really obvious and reached mass penetration. Brands work more and more with influencers, there are locally developed platforms and international solutions, we had the first Influencer Marketing Conference in Romania, organized by Evensys, where Starcom and MSL The Practice were know-how partners. Influencer Marketing became big enough to make sense talking about local best practices and worst practices, about how it should be regulated and about how it should self-regulate.
The second trend was the ascension of video content, more and more brands play with it, test it, some quite successfully, others not so much. Last year more than 60% of all projects MSL The Practice did included video content, a 20% increase compared to 2017. It's a global trend easy to verify and it's clearly a bet worth taking for the next years as well.
The third would be the rise of consumer's voice on social media, a trend which is not new and continues to grow and to produce almost immediate effects for companies and brands. People are more and more vocal in pulling alarm signals when companies do something wrong, and this causes sensitive situations or even a few crisis situations which sometimes go beyond social channels.
What do you wish for 2019 from this point of view?  
Do Influencer Marketing in a smart, strategic way, not just because it's trendy. The best thing about having such a wide pool of influencers is the fact you can wisely choose the right ones. From large quantity comes good quality, so strive for good content and creative collaborations with those who fit your brand.
Use video in a relevant way to reach consumers and sparkle conversation, not in a rigid manner. Yes, people prefer video content, but when it's fun, educative, creative, relevant, they don't want to watch a stiff white collar with wood language talking corporate irrelevant non-sense.  
What do you wish for the local industry this year? 
To give back more to the society, to play a better role, to be more involved and more sustainable. We tell our clients they must give back to the society, but we rarely do it as an industry. EDUCATION at large – meaning to take on big, relevant topics and open people's eyes and encourage the right behaviors – is, from my point of view, quite a low-hanging fruit for the communication industry to contribute to a better society. After all, it's the industry that people listen to for years.
There's much to be done, of course one year is not enough, 30 years will probably not be enough, but I think we should start already if we want to get somewhere. I think we should salute the individual initiatives of one agency or another, but we should be more ambitious and see that a cohesion at industry level could help the Romanian society become better and better.
Do you believe a second economic crisis will come?
That's probably one of the first things they teach you in 11th grade, in Economics class: that cyclical evolution is an inherent characteristic of the market economy. It's a matter of when, not a matter of if a new economic crisis will come. And yes, the cycles have shortened, so we can expect it soon, especially since the preceding signs already manifest.
If so, how will it affect the Romanian PR industry?
I expect clients to be more prudent in spending their budgets, not necessarily to reduce them, but to base their decisions on stronger reasons and on measuring impact more thoroughly.
I also expect to see a segregation among clients: some understand that in tough times you need reputation management and trusted advisors more than before, others decide to put "sales before reputation". The experience of the last crisis showed us which category navigated better through the storm and which lost part of their boat along the way.   
What have you learned from the last crisis and how prepared are you for a new one?
We've learned to be stable and flexible at the same time. Stable in terms of a balanced portfolio of clients and a steady team of trusted advisors, flexible in terms of how we respond to clients' changing needs.
Oana Bulexa
Managing Partner MSL The Practice