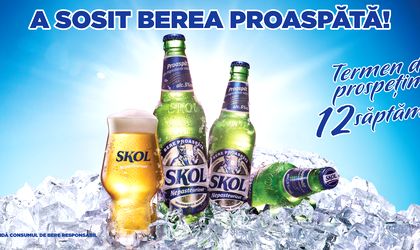 MullenLowe agency worked for the launch of a new beer under the SKOL brand, which is produced by United Romanian Breweries Bereprod (URBB).
"Therefore, through this launch, we continue to propose the Romanian consumers new tastes and sensations and the communication campaign created by MullenLowe highlights the innovative character of this product, as well as the importance of savoring it as fast as possible," said Paul Markovits, marketing manager, URBB.
In order to highlight the basis attribute of the new Unpasteurized SKOL, MullenLowe created a TV spot in which every order is transformed into a race against the clock.
The campaign runs in the period June-December and, alongside TV, the channel mix is completed by OOH, online and in-store.
Moreover, the agency Golin coordinated the launch of the beer through an event at URBB's plant in Pantelimon, where the media was invited.
The URBB team responsible for the campaign included Paul Markovits (Marketing Vice President), Mihaela Necula (Marketing Manager) and Denisa Jalba (Brand Manager).
From MullenLowe: Andrei Munteanu (Group Creative Director), Victor Oprisan (Group Creative Director), Ilinca Nanoveanu (A/V Producer), Bianca Iancu (Senior Account Executive), Adriana Tudoran (Account Director), Gabriela Alexandrescu (Client Service Director), Eugen Suman (Executive Creative Director).
The Golin team: Ana Trif (Director, Consumer Division), Theodora Mirea (Senior Manager), Florin Merla (Senior Media Associate), Irina Gonta (Junior Media Associate), Mihai Stanciu (Senior Digital Manager), Bianca Stoica (Digital Associate).
The promotion TV spot was realized with the support of the production house MME (Multi Media Est) and of the director Asaf Kobrovsky.
Romanita Oprea