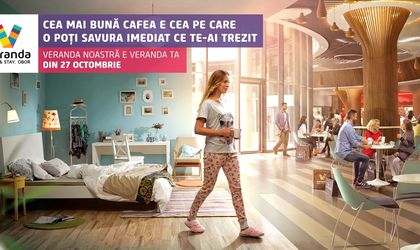 MullenLowe agency has created the launch campaign for Veranda Mall together with media agency Initiative.
"The campaign created by MullenLowe – "Veranda noastra e Veranda ta" (Our verandah is your verandah) – puts us in a familiar, relaxed and warm area that helps us approach our public exactly as we want to," said Andrei Pogonaru, developer of Veranda.
The opening of the new mall was supported by an integrated campaign that has major visibility in the interest areas for Veranda. The outdoor exposure, alongside various and impactful supports, adapted to the proximity concept, was highlighted by two special projects.
The first one is the Obor Station, now with Veranda, that creates on the platform of the Obor metro station a small space dedicated to the travelers and residents. The second special project is the branding created in one of the most crowded intersections in Bucharest, at the roundabout Obor that increases the exposure of the Veranda symbol in the mind of the consumers stuck in traffic. The digital communication, with components of exposure in premium display and performance media, along with the most listen to radio station in Bucharest, complete the media mix used for the launch of the new mall.
The Veranda team involved in the campaign was formed of: Raluca Harabagiu (Marketing Director), Iuliana Mardare (Specialist Marketing), Maria Craciun (Specialist Marketing Specialist) and Aura Dinu (Head of Marketing Shopping Centers CBRE Romania).
From MullenLowe: Eugen Suman (Executive Creative Director), Manuela Gogu (Creative Integration Director), Robert Soparlache (Senior Art Director), Simina Zidaru (Copywriter), Ilinca Nanoveanu (A/V Manager), Alina Balan (Client Service Director), Adriana Tudoran (Account Director), Bianca Iancu (Senior Account Executive).
The agency Initiative was represented by Andreea Dinescu (Deputy Managing Director), Luiza Popa (OOH Media Buyer), Alexandru Miu (Senior OOH Manager), Adriana Ciobanu (Senior Media Planner), Cosmin Otel (Digital Strategy Director), Raluca Lupu (Digital Account Executive), Ruxandra Stefan (Strategy & Planning Director), Catalina Ghita (Radio and Print Buyer) and Cristina Chinde (Research Manager).
Romanita Oprea