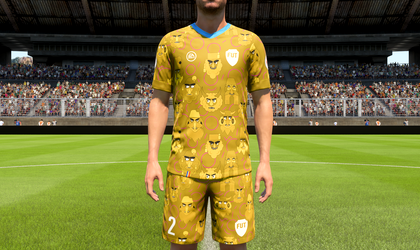 Football fans from everywhere can now digitally equip their favorite athletes with a new and special kit created in our country for the EA SPORTS FIFA 22 global community. 
MullenLowe Romania  designed for EA SPORTS FIFA 22 a football kit inspired by Romanian traditional masks and folklore symbols. The launch is part of EA SPORTS' continued initiative to promote dedicated content in the most popular sports video game in the world, that's also developed in part in Romania.
"We are pleased to offer Romanians who are passionate about EA SPORTS FIFA & football the possibility of gaining a piece of special kit to represent them in the virtual matches. We hope that this approach will please them as much as we have enjoyed it since the first iteration", said Ionel Stanescu, Line Producer EA SPORTS FIFA, EA Romania.
—
"The fact that we have contributed to the development of a unique kit for the entire EA SPORTS FIFA global community makes us very happy, especially as it promotes Romania and symbolically brings a small part of our culture closer to football enthusiasts from everywhere. We salute EA SPORTS' initiative to promote Romania through EA SPORTS FIFA 22 and thank them for giving us the opportunity to leave our mark on the new design", added Silviu Antohe, Executive Creative Director, MullenLowe Romania.
The Team Totems kit is available in EA SPORTS FIFA 22 Ultimate Team mode, and fans can attain it by completing a Squad Building Challenge until May 12, 2022.
Golin Romania manages EA SPORTS FIFA local communication activities as the communication agency of Electronic Arts in Romania.
MullenLowe team: Mario Niculae (Senior Art Director), Alina Georgescu (Art Director), Silviu Antohe (Executive Creative Director).