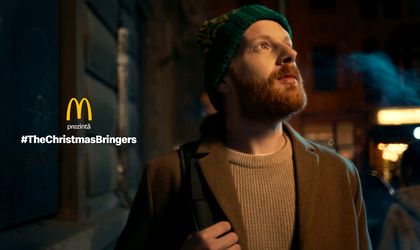 McDonald's gets into the holiday spirit with #TheChristmasBringers and two mouth-watering new burgers.
By Romanita Oprea
As every year, McDonald's gets wrapped up in the festive spirit and surprises its fans with a special gift. Following the trend of this year's special releases, it returns with two new recipes – Festive Burger and Merry Burger, burgers made from pork, the favorite of Romanians for the Christmas holidays, in combinations that promise to bring the taste of the holiday to the table.
And it doesn't stop there. This year, McDonald's wants to shine a well-deserved spotlight on everyone who brings Christmas, year after year, on #TheChristmasBringers. They are the ones who install the colorful lights around the city, the ones who decorate the shop windows or the ones who carefully repeat carols; those who prepare ahead of time the celebration we enjoy together.
"Christmas does not just happen by magic, but is the result of the collective effort of a large number of people. This year, we wanted to do something different and, together with McDonald's, make these Christmas Bringers visible. Of course, McDonald's is in turn a true Christmas Bringer, preparing the celebration for its fans with new festive recipes", said Roxana Niță, Creative Director, DDB Romania.
—
"The winter holidays are the perfect time to surprise us and treat our customers to something special. Every new recipe means innovation and concern for quality, and over time, we've learned that McDonald's fans look forward to new proposals from their favorite restaurant. Moreover, this year we are trying to communicate differently, challenging consumers to discover, with us, all those who kick off the festive period. We hope to be closer to our customers this way during the most beautiful time of the year," said Irina Angelescu, Marketing Director, Premier Restaurants Romania.
—
"When you are one of the most loved brands in Romania, it is important that, at least from time to time, you surprise your fans with something different, with a challenge. That's exactly what the #TheCristmasBringers campaign is doing. It invites people to look at the holiday from a new perspective. Of course, McDonald's does not forget its main role and surprises its fans with two really special festive burgers," added Georgiana Rotaru, Account Director, DDB Romania.
The campaign is declined in TV, online and OOH executions and runs from November 18, 2022 to January 19, 2023.
#TheChristmasBringers was made by:
McDonald's Romania team:
Marketing Director: Irina Angelescu
Marketing Manager: Alexandra Todirică
Marketing Coordinator: Lavinia Apopei
Digital Marketing Manager: Cosmina Ţapliuc
DDB Romania team:
Creative Director: Roxana Niță
Senior Art Director: Ana Ramona Tanasă
Senior Copywriter: Alexandru Iliescu
Graphic Designer: Adrian Simion
Strategy Director: Ioana Dobrinescu
Strategic Planner: Georgiana Nica
Account Director: Georgiana Rotaru
Senior Account Manager: Carmen Răduță
Studioset team:
Director: Anton Groves
Producer: Sorin Baican
UPM: Oana Matei
DOP: Radu Voinea
Editor: Bogdan Orcula
Colorization: Bogdan Jugureanu
Post production coordinator post: Diana Crețu