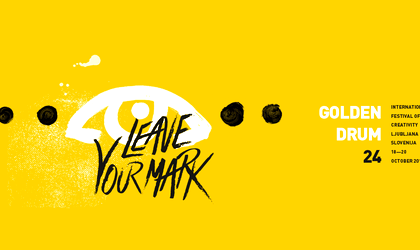 The 24th edition of the International Festival of Creativity Golden Drum announced the finalists of this year's competition. More than 1,000 creative works compete for the prestigious Golden Drum Awards and now it is known which entries made it to the first round. The gala event on Friday night where Golden Drum winners will be announced is the most highly anticipated event of the Festival. The Golden Drum Grand Award Ceremony will start at 8 PM.
According to the festival's website, McCann WorldGroup Romania is the only Romanian agency represented in the competition with 14 shortlists as follows: 7 for "Live. From a Different World" for Vodafone Romania at the categories: "Capture (use) of local spirit, "Media", "Public Relations", "Digital", "Integrated", "Activation Programme", "Branded Content and Entertainment"; 2 nominations for "Coca-Cola Guess", client Coca-Cola Romania, at the categories: "Direct" and "Activation Programme"; 5 shortlists for "Rombot", client Kandia Dulce, in the categories: "Digital", "Activation Programme", "Integrated", "Media", "Capture (use) of Social Media".
"I am really pleased with the results. I was impressed by the variety and the quality of the work which can easily compete with the best of the world. The judging experience was very positive as I got a lot of local insight and understood more the market, so I am really pleased to share with you the final results," said Bruno Bertelli, Best Piece jury president & global chief creative officer Publicis Worldwide Italy.
Work at the Best Practice Competition Section was also commented by president of the Best Practice Jury and global executive creative director and president of McCann Global Creative Leadership Council in USA, John Mescall: "Everything shortlisted met a strict standard. It really had to represent the best practice in our industry, in this region".
Romanita Oprea