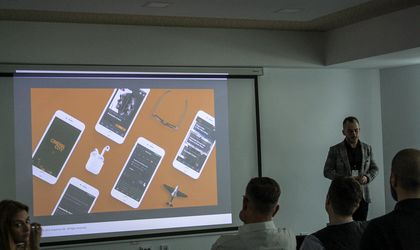 Iasi was last weekend the capital of the informational architecture. Over 60 people took part at one of the most important global events dedicated to the architecture information – WIAD 2017. The conference, organized locally by the agency Grapefruit, at its sixth edition in Romania and that took place this year at the same time in 58 locations, 24 countries, 5 continents, was hosted for the first time by Iasi.
The speakers' presentations were structured into two main pillars: how we apply Architecture Information in the professional and the personal lives.
Examples of applying Architecture Information in the professional life offered Flavian Cristea (Digital Strategist Grapefruit) that talked about the benefits of organizing and defining OKRs (the methodology Objective Key Results).
The passing was done easily towards a study case presented and proposed by Victor Keller (UI/Graphic Designer Grapefruit), for Cinema City: the creating of Cinema City App.  The Grapefruit team saw the fact that this type of app didn't exist at that time on the market and wanted to prove its utility and importance, at the same time, feeling that it's a need for these type of products on this niche. The proposal was received with enthusiasm and the majority of the participants said they wanted this app to be implemented in reality, because they empathized with the identified problems. Moreover, this application would make their lives easier and revolutionize the reservation / administration of online tickets' system in Romania.
The agency went even further with developing ideas, trying to place them even more in the practical, real world. Therefore, the IDEO Course presented by Alecsandru Grigoriu, UX Lead Grapefruit, has at its basis the concept of "Human Centered Design", the result being a solution through which the agency resolves the real problem of the people with low income that are eating unhealthy.
"Following the entire course and the weekly workshop for a period of 2.5 months the proposed finale solution was a prototype of real dimensions, a kit for 4 persons, with ingredients already portioned and cooking instructions. The user research techniques were integrated in the Grapefruit design process," said Alecsandru Grigoriu.
The Information Architecture methods and the way they can be applied in the professional life were illustrated by Ion Turcanu, UX Designer Grapefruit, using Card sorting and highlighting the benefits of implementing in a project.
WIAD 2017 took place at the same time in Europe in: Barcelona (Spain); Bristol, London and Manchester (UK); Jonkoping (Sweden); Ljubljiana (Slovenia); Lyon (France); Palermo, Rome and Verona (Italy); Saint Petersburg (Russia) and Zurich (Switzerland).
Romanita Oprea