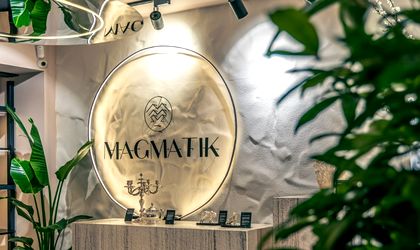 The consulting, design and brand rhetoric agency Rusu+Borțun Brand Growers carried out the rebranding of the My House store, which will now be known as Magmatik. Relaunched in March and dedicated to authentic luxury objects, on 168 Calea Dorobanti, Magmatik brings to customers luxury brands such as: Lalique, Hermes, Christofle, Rosenthal, Versace, Sambonet, Rivolta Carmigniani, Villeroy&Boch, and offers, exclusively, two other luxury French brands, Ercuis and Raynaud.
The client had a brave vision and wanted to build a brand in the luxury retail category, a brand that would reflect a philosophy of life, a manifesto dedicated to authentic luxury, not ostentatious.
Therefore, the agency's approach could be different and set out to reposition an iconic store in Bucharest (which people referred to as the Rosenthal store) into a concept store, a destination that would focus on the customer experience and the authenticity of the craftmanship stories of the brands showcased there, which can inspire a true philosophy of life.
"We share the same values ​​with our clients, we stay with them and their businesses for a long time both before and after the brand building project, we have entrepreneurial and management experience and we get very involved in many business details. After the completion of the identity, we are happy to stay with the entrepreneurs by offering consulting in the area of ​​marketing and brand manifestation," said Cătălin Rusu, Chief Creative Partner & CEO at Rusu+Borțun.
The name Magmatik is inspired by the word magma (primary source and essence of things), and the brand aims to have a deeper perspective on luxury, seen as a philosophy of life, not as a signal of a social status. He wants to coagulate around him a community of customers who believe in the values ​​of the brand and of Romanian artists who will create starting from the premises that Magmatik exposes. The first step was Magmatik's participation at Romanian Design Week 2023 through the exhibition "The Profound Side of Luxury".
"Magmatik aims to be a brand-manifesto that encourages a different experience of luxury. The purpose of the brand is to inspire its customers to rethink the way they perceive luxury, not as a show-off attitude, but as a return to the essence of things, to the authentic stories behind the objects created by famous brands," stated Andrei Calagiu, one of the two entrepreneurs, co-founder of this business.
The Rusu+Borțun Brand Growers team involved in this project was made up of Alina Tudose, Răzvan Chifu and Cătălin Rusu, and the Magmatik team of Maria Calagiu, Andrei Calagiu, Mirela Tanasin Sartore, Vlad Oancea and Alex Keler.