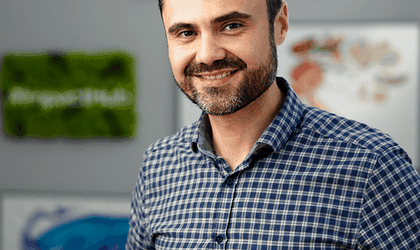 In September 2018, Impact Hub Bucharest, together with 4 other Impact Hubs in Europe, launched an international business acceleration program dedicated to the creative industries. In Romania, the program is organized in two cities: Bucharest and Cluj-Napoca. Creative Business Studio is the starting line for creative entrepreneurs in six European cities (Bucharest, Cluj-Napoca, Lisbon, Madrid, Siracusa and Vigo). They will have the chance to launch their products or services and get funding through crowdfunding platforms. BR talked with Lucian Gramescu, Incubation Manager at Impact Hub Bucharest, to find out more about the program and its goals.
By Romanita Oprea
What determined you to launch Creative Business Studio?
We make constant efforts in supporting innovative entrepreneurs across fields and we were determined to do something for the creative industry. We are aware of its potential and also of the struggles that these entrepreneurs face, as combining talent and business skills is a real challenge. After having worked with over 250 startups since we came to Romania, we have gained the fundamental know how and we have built a strong network that allows us to work together with young creative future entrepreneurs and support them on their way to successfully turning their idea into a scalable startup. As we are part of a global network, we saw the possibility of doing something with a bigger impact and go beyond national borders.
Why Cluj-Napoca?
We are working to support entrepreneurs across Romania, not just in Bucharest, where we are physically located. Cluj is important for us because we already have connections in the community, given that in 2016-2017 we have operated an Impact Hub in the city. While the physical Hub is no longer available, this is the business community we know second best after Bucharest, so it was natural for us to work with entrepreneurs here.
How did the collaboration start with the other international hubs and why precisely them and not others?
Our international network covers over 100 locations in the world and we have our internal systems for approaching and working with other Hubs. The collaboration started from our idea: we announced that we aim to launch Creative Business Studio and opened a bid for interested Hubs. We selected the most interesting from those which applied and created this European team.
Explain for us more about the concept and the idea.
Creative Business Studio is the start line for young creative entrepreneurs aged 18 to 30 that want to launch a startup in a creative industry. Selected startup ideas passed through a 3 month acceleration program, where they learnt about business models, finance, crowdfunding and branding from mentors and specialists. They receive all the support they need in the process of launching crowdfunding campaigns and test their product/service idea and, in the end, only a few from every country are selected in order to participate at an international marketing bootcamp in Madrid. What we aim for through this acceleration program and through the informative materials of crowdfunding that we created is to give this young entrepreneurs the skills they need in order to understand the market, to be able to develop a long term plan and to launch their startup.
Do you consider you have any competition on the Romanian market at this time?
Yes, in one way or another, we could say there is competition on the Romanian market, but we differentiate ourselves through the length of the program, through the support in launching crowdfunding campaigns and the fact that it is an international program that offers access to wider markets.
At the same time, there is an interesting trend in Romania, different in the past two years I would say. Before that, you would find the same startups cycling between entrepreneurship programs – many programs, same startups. At this point though, there are many programs, but startups vary much more from one program or competition to another. The ecosystem is getting more mature, there are more "serious" and committed startups, so competition becomes diluted, even though the number of good programs is increasing.
How has the idea been received by the market so far?
Well, it's not a new idea. We have been working with creative industries startups and supporting them to go through early stages and crowdfunding through Hubcelerator, our oldest program. What Creative Business Studio does is take those tried and tested approaches and focus exclusively on creative industries startups. So the idea has been received well, but we already knew there was a "market" for it and that we would find a nice cohort of entrepreneurs to work with.
What were its main results in 2018?
Talking about the Romanian market, we received over 50 applications for this program and we had a very good coverage in media. The accelerator began with 10 participants in Bucharest and 10 in Cluj-Napoca, who participated at trainings and workshops held by specialists and some of them are now ready to begin their crowdfunding campaigns.
What are your goals and expectations for 2019?
Regarding Creative Business Studio in Romania, we are looking forward to seeing as many ideas turned into startups and financed through crowdfunding. Also, we are hoping that this first step we took into supporting creative business ideas to become the starting point in developing the industry and in emphasizing the necessity of investing in creative talent. We continue focusing on the importance of education, as we have seen that not having the knowledge on practical things such as pricing or legal aspects or even choosing the best financing method is a primary obstacle in developing a sustainable business.
What is the potential of the creative industries in Romania, in your opinion?
That's not something you can put in a number or a metaphor, because the nature of creative industries is that it's … well, creative. No matter how much it grows, there is still room for creative work. However, there are factors who hamper that growth. The most important at this point is the challenge of finding a production partner, especially for those entrepreneurs who want to move up from initial success and low scale, workshop-based production, to mid-sized orders and production capacity. Their main challenge is to find suppliers and production partners, as most existing businesses in Romania will work larger volumes than what they need. So I would say this is a challenge to look at in the near future if we want to support them in getting to the next stage.
How is Cluj-Napoca compared to Bucharest, from a creative point of view, but also as a business potential? How has it developed in the recent years, from your point of view?
There is a great creative potential in both cities, but there are undeniable advantages in Bucharest, such as easier access to mentors, investors, clients, big fairs and know how events that allow a better development of the industry here.
What about Cluj-Napoca and Bucharest compared to the other cities in the program?
The differences are small. Yes, the businesses are different, but they are all early stage, sorting out through starting and setup questions. Because that, differences in market appetite for creativity or purchasing power have not yet made a big impact, but we'll see later, in the crowdfunding stage.
What are your expectations and goals for the Romanian creative industries?
We are hoping for a better management of financial aspects regarding the creative industries, paying more attention to promoting local products and services, an easier access to international markets and to proper education that would allow talented creators launch successful businesses.