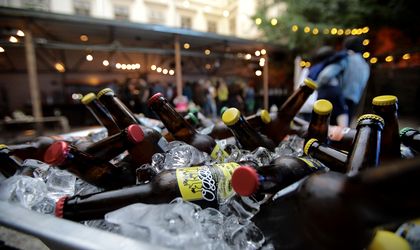 To mark 25 years of activity on the local market, Lowe Group celebrated its birthday among friends, offering them a brand of beer especially created for this anniversary.
This is how OBBerea was launched, a drink with 100 percent branding Lowe Group. Over 300 guests – employees, business partners, media and advertising communication people, were invited to taste the beer during a special party.
"We are celebrating 25 years, we are mature enough to drink beer, but also courageous enough to produce our own! Therefore, at the Lowe Group party, we decided to offer our friends a special edition drink that celebrates youth, courage and unity, the values that had been characterizing us since the beginning," said Veronica Savanciuc, president & CEO, Lowe Group.
OBBerea is an unfiltered beer, produced in three ranges, especially for Lowe Group, by Berarium SRL Timisoara. Its name comes from the acronym for One Big Band (OBB), the internal communication platform that reunites the companies' teams in this holding. The drink is bottled in personalized bottles for each agency in part – MullenLowe (advertising), Initiative (media), Golin (PR), Profero (digital), Medic One (medical and pharmaceutical communication) and BPN (new media).
The beer is dedicated exclusively to Lowe Group's employees and partners and is not for sale.
The project team:
Initiative: Dana Marinescu (project management);
MullenLowe: Manuela Gogu (Creation), Simina Zidaru (Copy), Alina Nechita (Art); Oana Popescu (BTL), Mihaela Rotariu (BTL), Dan Matache (BTL), Ionuț Maholea (BTL);
Golin: Alexandra Popa (PR); Oana Cojocaru (PR).
Romanita Oprea