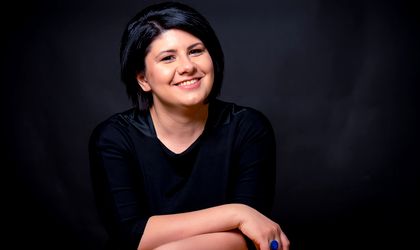 With more than 13 years of experience in journalism, out of which 11 at Biz magazine, Loredana Sandulescu is one of the most respected media & advertising journalist in Romania.
Graceful, always with a smile on her face and a true professional, Loredana marked the start of the summer with the launch of her own online portal, called BrightBusiness. BR met with her and found out more.
Romanita Oprea
Why did you decide to launch the website at this time of your career?
I have been in the media industry for over 13 years and with the same brand over the past 11 doing business journalism at Biz. It has been quite a challenging, as well as rewarding journey during which I've been learning a lot and I still do. I don't remember to ever getting bored at my job, I've been involved in so many projects, I've traveled and met many people. I also had the chance to interview amazing professionals from all over the world and write many stories. This amazing journey is still ongoing, next year we'll travel to Japan for a new international edition of Biz and I will continue with all my already launched projects at Biz and a few more to come.
BrightBusiness.ro is a personal project I've had in mind for a while, but I launched it only now because I felt this was the right moment for me to take one step further in my career. It`s a project I have been developing for the past few months and I am very proud of the result. I believe in the idea behind this online platform and I hope I will be able to grow it. First and foremost it is not a project that came out of frustration or made in a hasty manner, but a project that came to life at a moment when I feel I have both the expertise and professional maturity to build on something relevant.
What does it represent for your role as a journalist?
I hope it will broaden my professional expertise and help me become a better business journalist. As for splitting time, being a journalist is not a 9 to 5 job. Of course, I have my free time, vacations and weekends, but I never cease to be in a journalistic mood, sometimes the best ideas or the most inspired titles, for instance, came to me while at home or while being in a leisure mood. As for choosing the topics, it is even easier. Biz is a business magazine, covering various topics from entrepreneurship to technology and innovation, and from marketing to lifestyle, while BrightBusiness.ro is a niche platform which brings together two specific industries: fashion and beauty and analyzes them from a business perspective.
How did you choose the positioning of the website?
Fashion and beauty are two industries I have been interested in for the past few years and business journalism is something I have been doing for the past 11 years, so connecting the dots was something that came to me quite easy. It took me longer to find a name powerful enough to embody the idea of this platform. The fashion and the beauty industries are about the bright side of life and professionals have to be bright enough to be successful in such competitive industries. I am also satisfied with its double meaning: bright- luminous; shining, but also quick-witted, smart.
Who do you believe to be your main competition and why?
I`ve done some research before launching this project and I haven`t find found something similar on the Romanian market. It might be unique at the moment but if I am wrong I`d like to meet my competition and share ideas and thoughts because I believe this is the only way our media industry can grow.
What do you offer differently?
I try to put in a business perspective two industries which in the Romanian blogosphere and online media have been treated mainly from a sampling, testing, endorsing and photographic / pictorial perspective. Of course that all the current fashion and beauty websites, blogs and vlogs play their role and are salient just the way they are. They are part of this huge business which is the fashion and beauty industry and I am not competing with them, I even plan to write about some of them, the best ones, and discover new ones.
One of the main differences between a regular fashion & beauty website and BrighBusiness.ro is the audience I am targeting. I do not address only fashion & beauty aficionadas, but mainly professionals working in the fashion & beauty industries – marketing professionals, entrepreneurs, designers, creative and strategy directors etc – that are willing to be aware of  the industry trends, what's new, where their business is heading, that want to learn how to grow a brand or how to build a strategy.
I'll feature business results, researches, reports, news about conferences, product launches and innovations, financial results as well as articles on branding and marketing, interviews on strategy, business plans and career paths from Romania and abroad.
What are your main objectives?
My goal is to build a community and gather around this platform all those mentioned above – professionals in the Romanian fashion and beauty industries.
What does being a journalist represent to you?
A way of living and probably one of the most interesting jobs in the world. It keeps you connected all the time and provides numerous opportunities to explore the world. Last, but not least, I think it is one of those jobs that keeps one's mind young and fresh. 

What were so far the highlights of your career and why?
I hope Bright Business will be one of my highlights. Looking back in time, one of my first accomplishments was the full tuition scholarship at CEU and the year I spent in Budapest to complete my MA degree in Central and Eastern European History. I am also very proud of the projects I`ve been involved at Biz, some of which I have developed from scratch such as the Marketing Directors Yearbook or Biz PR Romania – the research I`ve been coordinating for the past 5 years. Over the years, there have been many rewarding projects at Biz and I am happy I was part of them. I am looking forward to the next to come.
What made you decide become a journalist? 
Actually it was not a career I was pursuing, it was not something I dreamt of becoming while I was a child or in high school and later on in college. Now I cannot imagine a profession that could suit me better. I entered this industry by chance and for the first five years I didn't even call myself a journalist – back then I thought if I manage to do this job for at least five years then I could describe myself as being one. I`ve learned a lot, developed skills I never thought I have and I grew up to become a journalist. I know it is a stereotype, many people are saying it, but it is also true for me, somehow I did not choose the job, the job chose me.
Did you ever want to give up?
Over the years, there were a few moments when I wanted to give up and start something else, but each time there was something that kept me from making any harsh decision. Now I am glad I didn't act on impulse because right now I do not see myself doing something else.
Where do you find inspiration?
Everywhere, even in the most common circumstances and places. Sometimes inspiration comes when I expect it less. And this is the beauty of my job – I get to meet so many people – some of them truly amazing and I am exposed to so many circumstances that I get so much inspiration just doing my job.
Who is the person Loredana Sandulescu, the one outside the job?
The same person, both at work and outside. I cannot be two different persons. Depending on circumstances I might express differently, but always I stay true to my values and respect for the people I interact with.
What are your passions?
I guess connecting ideas is my biggest passion, while trying to understand the world we are living in.
Credits photo: me.alchemy / Iulian Ratescu