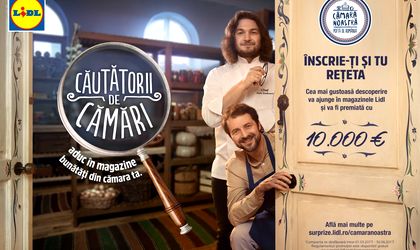 The pantry is that place in the house where the stories are naturally conserved, the food has the childhood taste and its secret passes from one generation to another. From this space – physic and symbolic – Lidl retailer took inspiration from two years ago when it launched Our Pantry, the brand that reunites the products with Romanian taste.
Following a selection process organized by the retailer at the end of 2016, MullenLowe was chosen to develop the Our Pantry brand communication campaign for this year – The Pantries' searchers. This is how it started the run after the most authentic and tasty recipes from the Romanian households.
"In order to bring the local traditional products in the Lidl stores closer to a large public, we chose to implement the creative solutions proposed by the MullenLowe team," said Cristina Hanganu, communication and CSR Director at Lidl Romania.
The campaign developed by MullenLowe highlights the local, authentic origin of the Camara Noastra offer. With the help of the Pantries' Searchers – a brigade of specialists composed of Chef Florin Dumitrescu and Andrei Aradits, Lidl will identify the most delicious and original recipe in the Romanians' household and will award it with EUR 10.000. Moreover, the winning product will be added, at the end of the campaign, on the Lidl's shelves and will totally follow the original recipe.
"We started from the insight that every Romanian householder is proud of at least one product that he has in his pantry – either it's a honey agaric zacusca, a manner of pickling like nobody else does it or a totally different jam. This is how we've reached the idea that any consumer deserves to be surprises with Romanian authentic products, searched intensively on the best kept pantries in the country," added Eugen Suman, executive creative director, MullenLowe.
"Cautatorii de camari" (The Pantries' Searchers) is a 360 campaign, developed with the support of the agencies Golin (PR) and Initiative (media), that covers all the communication channels – TV, radio, print, OOH, HHZ & catalog, digital, PR, social media, in-store. The TV spot was created with the help of the production company Saga Film and of the director Radu Barbulescu.
Camara Noastra includes over 80 products in the Romanian Week, part of them found in the retailer's permanent offering.
The MullenLowe team that worked on this campaign included Eugen Suman (Executive Creative Director), Adrian Chiuhan (Had of Strategy), Manuela Gogu (Creative Integration Director), Silviu Antohe (Art Director), Radu Nantu (Copywriter), Ilinca Nanoveanu (AV Manager), Alina Balan (Client Service Director), Andra Panaitescu (Account Manager), Cristina David (Account Executive).
The Golin agency is represented by Roxana Diba (Director, Consumer Division), Casiana Ionascu (Senior Media Associate), Bianca Cenusescu (Junior Media Associate), Catalina Soare (Digital Manager) and Alexandra Alboiu (Junior Digital Associate), and Initiative by Ruxandra Stefan (Strategy & Planning Director), Dan Togea (Senior Media Planner), Ana Deacu (Junior Media Planner), Anca Ionescu (Head of Unit & Account Director), Lavinia Mitran (Digital Media Planner), Cosmin Otel (Digital Strategy Director).
Romanita Oprea