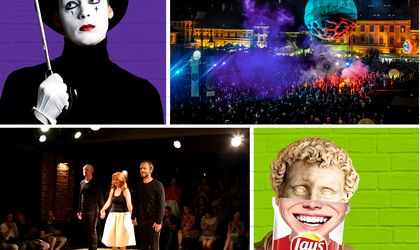 Cultura Zambeste (The culture smiles) is a fresh initiative of the Lay's brand, aiming to bring the culture closer to teenagers, through a campaign that has two major components.
Firstly, the company rolled out the platform www.culturazambeste.ro that supports and promotes over 26 initiatives in the whole country, from diverse domains: theater, dance, movies, visual arts, patrimony, poetry, literature, ethnography, restaurants and architecture. The second component is represented by the Lay's Spaces, true urban islands that encourage the communication and the interaction between the young people.
"This how the Lay's Spaces in four big cities in the country appeared – Bucharest, Cluj, Iași and Timisoara, where aim to create a meeting point of the local community with the most important cultural projects. #CulturaZambeste represents an invitation to exploration – cultural, urban, social, personal, and Lay's is a brand that wants to bring the same on peoples' faces not only through taste, but also through unique projects," said Alina Imbrea, marketing director Snacks Greater Balkans, PepsiCo.
Through the platform, over 1,000 young people have access to these cultural events. In order to benefit of free invitations, the first step for them is to create an account on the platform and then to apply for the projects they are interested in.
Among the events presented on the website are TIFF, The International Theater Festival Sibiu, The Anonimul Film Festival, Garana Jazz Festival, The National Young Theater Festival Ideo Ideis, Awake, The International Literature and Translation Festival Iasi – FILIT.
Moreover, the platform reunites a series of projects that Lay's is supporting on a long run: Apollo111 The Theater, Unteatru, Luni Theater from Green Hours, The National Dance Center Replika, Cinema Govora, and MOTZArt in the school.
The partners that backed this project are The Zeppelin Association and Carturesti.
Lay's #CulturaZambeste is part of the campaign Descopera Gustul Verii (Discover Summer's Taste).
Romanita Oprea