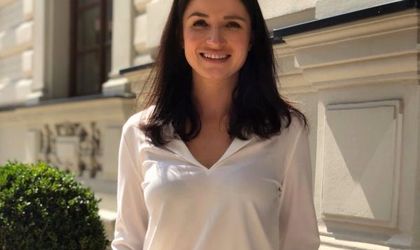 McCann PR has appointed Laura Aldea as its Chief Growth Officer. Laura brings 14 years of experience in advertising and she will embark on the mission of coordinating the agency's new strategic growth directions. Her expertise in communication and energy will contribute to developing McCann PR on the long term. Laura will work closely with McCann PR's management team (which consists of Imola Zoltan, Managing Director, Lavinia Chican, Senior Partner, Ruxandra Vasilescu, Business Director Health and Raluca Dumitrescu, Senior Consultant) in order to identify new opportunities for company's divisions: FMCG, Health, Tech, Finance, Energy, Sport and Experiential Marketing.
By Romanita Oprea
"I am extremely happy to be on the same team with a person I appreciate tremendously, both professionally and personally. Laura's entrance in our team is a normal step, due to our common history within the McCann group and also due to the moment our agency is undergoing now.  Over the last few years, McCann PR has developed many capabilities, becoming an integrated communication agency, both in the corporate and crisis communication areas, but also in areas like brand communication and experiential marketing, through the newly launched division. All those because the relations between the brands we represent and the public turned into more and more complex constructions and, to manage them as efficiently as possible, we need people like Laura, with a rich communication expertise. This way, McCann PR once again shows that it dedicates itself to the growth and development process, bringing in the needed resources for an increasingly competitive market. We are happy to have Laura with us and we can't wait to work together on memorable and impactful campaigns," said Lavinia Chican, Senior Partner McCann PR.
"The role offered by McCann PR is a challenge that arrived at the best moment, a new stage in my professional life, and I feel honoured. From my agency experience, but also from my consumer experience, I have noticed that, for the sake of creativity, advertising tends to exaggerate benefits to the point of discrediting them in front of a rational public. Try, taste or touch are actions that build a healthy communication and this will be the approach to extend our clients' portfolios. I have found here a team of wonderful people, together with whom I can enter a new communication territory and where innovation must become the modus operandi," said Laura Aldea.
McCann PR Romania has been active on the Romanian market for over 14 years and is affiliated to Weber Shandwick. Its portfolio includes clients like Coca-Cola Romania, Coca-Cola HBC, Carrefour, ING, UPC, Metropolitan Life, HTC, Engie, Distrigaz Sud Retele, UNSAR, Federal-Mogul, Nestle, Nespresso Romania, SECOM, Microsoft, GEFCO, Nokian Tires, Forever 21, Konica Minolta, Regina Maria, MSD Romania, Janssen, GSK Romania, Philips TV, Conservation Carphatia Foundation, Romanian Olympic Committee, Tezyo, Toyota Romania, Allianz Tiriac, Exxon, Honeywell, BRD Bucharest Open, Horia Tecau, Tork, Simona Halep, Horia Brenciu, Ana Hotels, Volvo Trucks, etc.