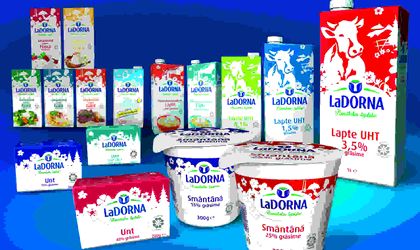 Dairy company LaDorna marks the year of this year with a strategic image change, the most important project of the brand in 2016. 
After a vast market research, LaDorna launches the new packaging that will dress the whole portfolio of products into a contemporary, simple and premium line of design. Through this modernization of the packaging image, LaDorna wants to come in the support of the consumer to identify easier at the shelf the products that are under the brand's umbrella and, at the same time, to align them from a concept and design point of view.
"The contemporary design was born following the feedback received from the Romanian consumers. Moreover, the new visual identity allows the highlighting of the future innovations," said Monica Radulescu, marketing director Dorna Lactate (Lactalis Romania).
The project was realized in partnership with the strategy and design agency Brandtailors.
The presentation of the new visual identity is supported with an integrated mix of communication: advertising, social media, PR and in-store activations.
The LaDorna & Brandtailors teams that coordinated the rebranding process comprised:
Monica Radulescu – Marketing Director Dorna Lactate (Lactalis Romania)
Claudia Voicu – Senior Brand Manager Dorna Lactate (Lactalis Romania)
Anca Niculae – Project Manager & Partner Brandtailors
Andra Morariu – Account Manager Brandtailors
Andreea Florea – Managing Partner Brandtailors
Marian Georgescu – Junior Brand Designer Brandtailors
Melania Moisi – Creative Partner Brandtailors
Mihai Parpalea – Desktop Publisher & Partner Brandtailors
Romanita Oprea