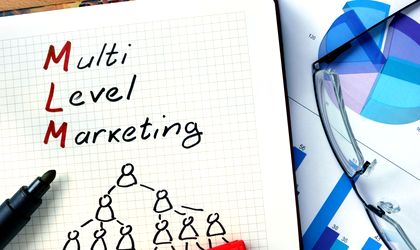 Multi-level marketing, sometimes known as MLM, has an unfavorable track record in the corporate world. Multi-level marketing is frequently associated with get-rich-quick schemes and pyramid schemes, but not all MLM businesses are frauds. GO Global, a provider of online education, training, and coaching, is occasionally mistaken for an MLM business. Despite widespread misconceptions, this article will demonstrate why GO Global is not an MLM business.
In this article, we will look at the differences between MLM and the Go Global business model as well as the causes of these false beliefs. We'll also look into the benefits of joining GO Global and how their coaching and education programs might help people reach their personal and professional goals.
Let's understand what MLM is
MLM is a business model where products or services are sold through a network of distributors. MLM businesses hire people to work as distributors or salesmen, and these individuals are paid commissions on both their own product sales and the sales of the people they have recruited. The organization of MLMs frequently resembles a pyramid, with those at the top making the most money and those at the bottom earning less.
Let's examine why GO Global is not a pyramid scheme and how it is different from MLMs.
Products and Services
One of the most significant differences between MLMs and GO Global is the emphasis on products and services. GO Global offers a thorough educational platform with top-notch classes and workshops led by professionals in the field. The courses are designed to assist students in strengthening their skills, learning new information, and achieving their career goals.
On the other hand, many MLMs prioritize member acquisition over product sales. Some MLMs require its members to purchase a certain quantity of products each month in order to maintain their status, despite the fact that they do not sell the products to customers.
Training and Support
The training and support options provided by GO Global to its members include webinars, seminars, in-person coaching, and educational retreats. These resources are meant to help members hone their business abilities, discover the goods and services offered by Go Global, and engage with other community members.
Transparency
GO Global is open about both its business and business methods. The business gives comprehensive details about its products, offerings, and ways that customers can make most of it. Overall, GO Global is a direct selling business, not an MLM, with a focus on giving clients high-quality educational products and services. Resources for training and support provided by the company are intended to aid members in succeeding.
Here are some more advantages of joining GO Global:
Connecting Opportunities: GO Global offers opportunities for learners to connect with like-minded individuals from all over the world. These connections can lead to career opportunities, partnerships, and collaborations that can help individuals achieve their goals.
Access to Global Market: Through GO Global's partnerships with various global industry leaders, learners have access to opportunities across the world. This can be particularly advantageous for individuals who want to work in an international environment or in a specific industry.
Personal Development: GO Global offers resources and tools that can help individuals develop their personal and professional skills. Learners can take advantage of workshops, seminars, and other learning opportunities to improve their communication, leadership, and problem-solving skills.
Flexibility: GO Global's online learning platform offers learners the flexibility to study at their own pace and on their own schedule. This can be particularly beneficial for individuals who have busy schedules or who live in different time zones.
Access to Expertise: GO Global has a team of experienced educators and mentors who are experts in their respective fields. By joining GO Global, learners have access to these experts, who can provide guidance, feedback, and support throughout their learning journey.
Continuous Learning: GO Global's learning platform offers learners access to a wide range of courses and programs, allowing them to continue their education and stay up-to-date with the latest trends and developments in their industry. This continuous learning can help individuals remain competitive in their field and advance their careers.
Overall, joining GO Global can provide learners with a range of benefits that can help them achieve their personal and professional goals. Whether it's access to world-class education, community support, networking opportunities, or personal development resources, GO Global offers a comprehensive set of resources to help individuals succeed.
Why is the misconception still out there?
Despite the clear distinctions between GO Global and MLMs, there are still some misconceptions about the company. Here are some reasons why these misconceptions persist:
Lack of understanding: Many people are not familiar with the concept of an education-based business model and assume that any opportunity to make money must be an MLM.
Negative remarks associated with MLMs: MLMs have a bad reputation due to the history of pyramid schemes and fraudulent companies. This has led to people being cautious of any opportunity that resembles an MLM, regardless of the actual business model.
Myths and rumors: In today's digital age, misinformation can spread quickly and easily. False claims and rumors about GO Global Being an MLM or pyramid scheme can be found online, leading to further confusion and misunderstandings.
Despite the persistence of misconceptions about GO Global, there are many positive aspects of the company that deserve recognition. Here are some points to consider:
Education-based business model: GO Global's unique business model is centered around providing high-quality educational products and services to people around the world. This focus on education and personal development sets the company apart from traditional MLMs and emphasizes the importance of learning and growth.
Entrepreneurial opportunities: GO Global provides entrepreneurial opportunities for people who are passionate about education and personal development. Through the company's network of independent distributors, individuals can build their own businesses and create financial freedom for themselves and their families.
Positive community: GO Global's community of distributors and customers is supportive, positive, and encouraging. The company emphasizes the importance of teamwork and collaboration, creating a culture of inclusivity and mutual support.
Final thoughts
As a result, GO Global is not an MLM company, and the misconceptions around it are due to a lack of understanding of its corporate strategy. As part of its original and unique approach to education, the organization offers its members access to high-quality training resources, webinars, seminars, in-person mentoring, education retreats, and certification courses.
It is crucial to understand the differences between MLMs and real business concepts, like GO Global, before signing up with a company. People can decide whether or not GO Global is the ideal chance for them by busting the myths surrounding it and learning about its unique approach to education and personal development.