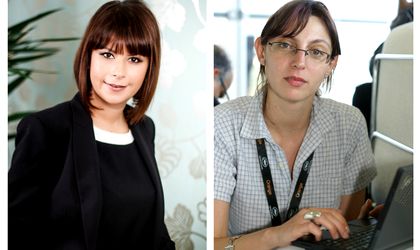 Last month, GMP PR launched the brand journalism division. The department creates editorial content for the agency's clients and combines the communication brand strategy with the journalistic storytelling. BR met with Ioana Manoiu, the managing partner GMP PR (left of picture) and Alexandra Olivotto, the head of the new department, to find out more about this initiative and how it all started.
Ioana, how did you decide to create the Brand Journalism department? What were the main criteria you had when looking for the perfect candidate to run the department? Why Alexandra? 
Ioana Manoiu: I was toying with the idea a long time ago, but I decided to wait for the right person. Brand journalism has already been on everyone's lips for some years, some say it's the future of PR. I cannot talk about a classic recruiting process for the perfect candidate. I met Alexandra, we had chemistry, and we decided we should do this. Today is about seeing opportunities and taking fast decisions.
It's not the first time you innovate on the Romanian market (you were the first PR agency with a BTL department, for instance). Is that a goal for you at GMP PR or was it just the right context for those moves?
I.M. Our job has fundamentally changed. In the latest years, we, as an entrepreneurial agency, were continuously on the go with the trends. From the very beginning we organized ourselves in specialized departments, when other PR agencies had a generally approach. We launched the BTL department, then the crisis department in a period when nobody talked about this. Last year we developed a creative department. In 2015 we organized the first PR measurement event thus confronting our industry big issue: results evaluation.
An entrepreneurial business has to be very much alive and has to always innovate in order to resist. This is not such a big effort for us, as we can easy walk into people's shoes. We challenge the status quo and we always think what we can do different, better, with more impact. We don't play it safe.
Alexandra, how did you receive the offer, were you surprised? On what project were you involved at the moment of GMP PR's request to lead their new project?
A.O. I was working as a PR manager and doing mostly corporate communication. I was both surprised and pleased, since it was a bold move for GMP PR and one that let me focus on the things I mostly enjoyed – writing & media relations, while also allowing me to plumb the life of very different brands and explore them in depth.
What are your main goals for the first two years?
We want the best brand storytellers in our team to make historic campaigns in brands life.
Why is storytelling in your opinion the new important trend to stay?  
Absolutely this is a trend to stay. People want to interact with brands and want to hear relevant stories for their lives. It is our job to meet this expectation and create these stories.
What was the industry's reaction to the news? Were you expecting it? 
We saw extraordinary good reactions that took us by surprise. The subject went viral, we received tens of congratulations and CVs. This means the market needs such a service. The rest of our team reacted with enthusiasm. It is not normal for client service people to do this part, when they had so much to do. I expected a trial period for the team and for the clients. There was no need. My colleagues adapted immediately and the department started working full capacity form the first week.
Alexandra, will you also cover storytelling in social media? What is your expertise on that area?
 A.O. Right now, only if my colleagues in the social media ask me to. I have no expertise in this area, but I do hope to become more knowledgeable in this field as fast as possible.
What would you say that were the most important steps in your career so far that prepared you for this position?
 A.O. Probably my very first job at Cotidianul, where I worked in a department called Sinteze – Documentare. Its name does not do justice to what we actually did (it was later changed into Features & Media), which was writing about most topics that crossed our minds, while having the possibility of thoroughly researching them. I was able to write a feature about the numerous Romanian national anthems, an article on the wild animals that had moved to the city, to do an investigation about plagiarism and another one about how the communist regime dealt with the LGBT community, focusing on a group of intellectuals who were convicted for the crime of being gay and jailed in 1959. Probably the interaction with such a wide array of themes and subjects is what made me ready to delve into such a wide array of brands as those of the clients of GMP PR.
Do you miss being a journalist?
 A.O. From the very beginning it was an odd career choice for a bookworm, but it quickly became an addictive lifestyle. One that you have to let go of when you get a PR job, while still keeping the frame of mind, so I am thankful to get back some parts of it (as frivolous as it may seem, inhabiting my jeans is one of those parts). Insofar as cultural journalism is concerned, I miss doing cultural investigations, as I still write film and book reviews for some sites and magazines. As far as brand journalism goes, it is as thought-provoking, enticing and challenging as an emerging field should be and brings together the best of both worlds.
What do you think you are closer now to being: a journalist or a PR specialist? 
 A.O. Since I am of the constructivist persuasion, I think brand journalism allows me to be 80 percent PR specialist and 20 percent journalist now and 80 percent journalist and 20 percent PR specialist ten minutes later. It is the fluctuation that does it for me, not the permanent closeness to one profession or another.
Will the department work for other PR agencies' clients?
A.O. If we are asked to, we will certainly not refuse. We will surely work with clients of the partner agencies in GMP Group.
Romanita Oprea