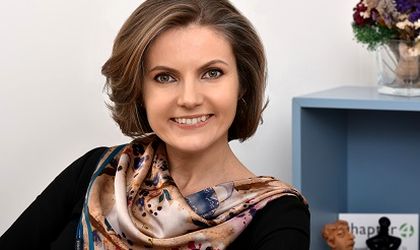 More than 15 years of practice in communication strategy and public relations consultancy, as well as corporate and brand communication and employer branding for clients from Tech & IT&C, FMCG, Retail, Pharma, Services, Transportation and more than 6 years of growing a team of communication specialists and developing a business from startup to SMEs would define Raluca Ene, managing director, Chapter 4 Romania. She talked with Business Review about all of last year's novelties for the agency and the market, the trends in the industry and a sneak peak of 2018.
By Romanita Oprea
How was 2017 for the agency in terms of turnover /revenues?
Chapter 4 Romania had a solid 2017, with a business growth of over 50 percent in terms of turnover and a healthy profit rate.
What were the departments that were most successful? What about the least successful ones?
As we are serving both business-to-business clients and business-to-consumer ones, while also addressing employer branding, internal communications or crisis management issues, it is rather hard to say which one prevailed. Communication programs as well as specific projects shaped up last year, and their results fit different types of objectives, therefore a real hierarchy is impossible to make.
What about the pitches entered?
We have the profile of a consultancy, therefore we'd receive direct requests for offer rather than go to pitches, as this is a more efficient approach in terms of building a true bond with our clients from the very first contact. Proof in point, at the end of 2017, apart from extending all our existing contracts for one more year, we have added 4 new clients to our portfolio, 3 of them being the result of direct offering.
How would you characterize the local PR industry in 2018 in terms of budgets, campaigns, creativity etc?
It's difficult to say, really, as the entire economic environment is tightly connected to the social and political one and influences are felt all across the industries, while budgets tend to be on the conservative side. Nevertheless, the year seems to have started on a rather enthusiastic note, and we are hoping that the PR industry will have more opportunities to be creative than in the previous years.
What were the campaigns done by the other agencies in Romania that you admired and why?
We are always admiring campaigns that are trying to change something in our society and companies that materialize their true role in contributing to its well-being. One amazing example was the campaign for MagicHome, a living proof not just of the fact that creativity is still forceful, but also of the fact that is effective in terms of results. Another good example is the discussion on bullying that started last year and we are happy to see it continues in 2018 as well.
What were the most important changes & novelties in the agency in 2017 and how did they come to happen?
Our industry is changing, hence the way we are doing business is changing. We reinforced the people-centric profile that communication consultancy really needs and we're now building on flexibility and growth together with our teams. We are also feeding a continuous learning process, so that we are able to keep a close pace with the development of communication channels.
2017 was a year of making the first steps towards change for our internal structure, and one of the most important ones was a reinterpretation of the classical agency structure. We want to become much more flexible for the clients, on the one hand, and more engaged as a team, on the other, as we treasure our colleagues and want them to grow and develop the way they want. Therefore we are now team-focused rather than department-focused, making it much easier to match the specific profile of our consultants with the client's profile.
A sign that we are on a very good track is the fact that we enlarged our team and moved to a more spacious office, while building on expanding our expertise and developing towards new value-added services for our clients.
What trends did you notice on the local market last year and how do you intend to follow them /represent them at your agency? What do you foresee for 2018 from this point of view?
One trend that would make the difference in terms of PR agencies' future is marketing communication consultancy. It is high time we stepped up into this game, as this might help us reshape our services so as to redefine company and brand communication. In order to get there, we started by expanding our entire team's knowledge and expertise in this area. Another trend is reinterpreting creativity in terms of corporate communication in general and content creation in particular. Our audiences change, their preferences change, the way they consume their information also changes, therefore we must be there to serve them promptly.
What is your goal for 2018 in terms of revenue, but also new clients, employees, etc?
We want to keep the expanding pace at a healthy rate, through new clients to our portfolio that would add to our expertise in terms of both corporate communication (reputation management, employer branding, internal communication, crisis management) and brand communication. Apart from that, we would like to have more marketing communication consultancy projects for entrepreneurial companies planning to scale their business.
What do you wish for the local industry this year?
We are in the right position to drive communication further into the new digital era, therefore it is of paramount importance for us to invest in gaining more knowledge and having more courage to experiment together with our clients. Their clients, be them other businesses or end-consumers, are already there.
How do you see the Romanian market connected to the international one at this moment?
Although we are a rather young industry, the local PR industry had the chance to be on a fast track in terms of learning and growing as professionals, while following the economic development of our country from the past decades.
As part of an international network, and being continuously in contact with our colleagues across Europe through the work for the clients we share, we know for a fact that we are providing the same high level of expertise and creativity as any top player across the international market. We are proud to say without a shred of doubt that our expertise as Romanian communication consultants would answer successfully to any challenge raised by clients from virtually any industry anywhere.