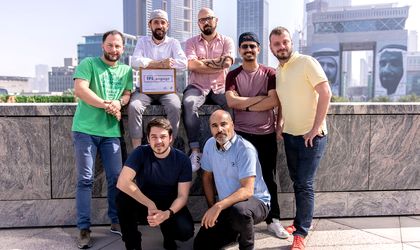 The Startup Hub Winner at Dubai Lynx and the winner of "Tech Innovation" award from the International Advertising Association, TPS engage is a software/ ad tech company, the first platform in the world to offer permanent contextual advertising features for outdoor advertising. They use machine learning to map the patterns of traffic and how the audience reacts based on ever changing weather, traffic conditions and a variety of other open and proprietary data sources. BR talked with Matei Psatta, co-founder & CMO, about the company's plans and how the industry is changing thanks to technology.
By Romanita Oprea
What does it mean for yo to win the start-ups competition at Dubai Lynx? Were you expecting it?
First of all, it is a huge honor seeing how we're a newcomer in the region. Secondly, it validates our vision that Digital Out Of Home is a market with a huge potential globally when addressed with online and digital marketing know-how. We were hoping for it, seeing how TPS engage is such a great fit for the MENA region, but DOOH is not always as "sexy" as other industries, so we're glad we managed to get the message across.
What are the main benefits you will get after this win?
Apart from the recognition itself, the most important one is that we will be going to Cannes Lions in June as a representative of the MENA advertising industry.
How about the fact that you were the first Romanian company to win it?
Definitely a plus for us, since Romania still has a long way to go to be on the "global business map".
Who was your main competition and why?
We competed with seven other startups, all with different background and on different verticals, which was interesting, because it was really important to push the vision and disruption you are bringing to your industry.
Why has The Pole Society transformed into TPS engage and what are the first steps in the change?
It's less fancy than it sounds, we're very pragmatic, TPS engage is the self-service platform that lets users access worldwide digital billboards and plan their campaigns on an hourly basis. We felt the need to have a distinct identity for the platform and TPS (which stands for The Pole Society) engage simply fit the bill.
What made you and your partners launched the software/ad-tech company in the first place and how are positioned different on the market?
While everyone was focusing on online advertising, we saw this huge missed opportunity on Digital Out Of Home and thought to ourselves how can we take online principles and apply them to the DOOH market space. Our main difference is that we take unsold inventory from the network operators and make it easily available on an hourly basis through a self-service platform. Simply put, if you have a coffee shop and only want to advertise each Wednesday morning, going through the normal sales funnel for such a small campaign will be a hassle for everyone (advertiser and network) and not worth the money. We change that by making the inventory readily available at the click of a button, all while maintaining quality standards and upgrading targeting possibilities.
What were your goals when launching the company and have you reached, at least some of them?
Our goals are simple – disrupt the DOOH market, help networks sell more inventory, help advertisers (small, medium & big) get more bang for their buck.
How have those goals changed in time and why?
They haven't, it's a very clear cut approach and I like to think it's one of the reasons it's working so well.
Your mantra is "Making Digital Out Of Home smarter, better and open to anyone". Please emphasize more on it.
We believe that as long as the quality standard is kept, advertising on DOOH should not be as restrictive as it is now. At the same time, we work with networks to improve targeting and contextual capabilities, helping advertisers get more return on their spend, which leads to more investments.
Why are Dubai, US and Asia the markets you target for expansion?
Dubai is an amazing market because of how fast things are developing and the general openness of business people when it comes to innovation. Here, you're the odd one out if you're not innovating something.
USA and Asia are in the perfect position to innovate – they are stable enough and have a very large inventory of digital signage and, most importantly, they don't have the "if it works, why fix it" mindset.
When will that happen?
Dubai is happening as we speak, we'll already doing tests in the USA and Asia is next on our list, however I cannot disclose exactly when that will happen.
How are, in your opinion, the new agencies changing the face of the advertising and marketing industry nowadays?
In 10 years from now we'll be laughing at how advertising used to work. Everything is changing and you have companies trying new things all the time.
What are they keeping from the past and what are they changing?
The principles are the same, we're just changing the way we apply them in real life. People don't want to see ads, so don't force boring advertising down their throats. People always want to believe they're not influenced by advertising, don't burst their bubble (see the already famous Cambridge Analytica scandal). Want people say they want/believe is very different to what they actually want/believe.
How has the fast technology boom changed the new agency module? 
In my opinion, the successful agency of the future – and by future I mean 5-10 years – will not be an agency, but a software company with creative capabilities. Creative tech, let's call it.
How important is technology for TPS engage?
It is literally everything we do, we're a technology company, not an agency, and we stress that out as hard as we can.
What are the new standards of the industry?
Understand the client's business, deliver fast and always be ready to adapt to new circumstances. Due to our background in both business, technology and advertising, we're finally managing to form partnerships with clients and not just be a service provider.
What does it take to put the basis of a successful agency in 2018?
People matter, but ultimately, technology is what will make you stand out from the crowd.