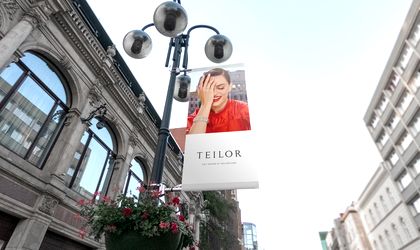 Under the coordination of the branding specialists at INOVEO, TEILOR laid the foundations of a new brand book for their integrated global communication. The TEILOR logo has been subtly enhanced, and the new visual identity direction includes color choices, imagery, and fonts that convey the brand's promise and mission more accurately.
The decision of Romania's largest jewelry retailer to upgrade its visuals was taken in the context of TEILOR's expanding to new European markets. TEILOR is currently operating a chain of over 60 stores in Romania, Bulgaria, Hungary, and Poland, and aims to establish itself as a truly global player in the near future. An expansion process on such a scale comes with a huge number of branding decisions and marketing executions. TEILOR has reached out to INOVEO in search of a qualified coordinator for the transition to a new level of communication.
INOVEO initiated and conducted a complex rebranding process that included researching the market and auditing the brand within the luxury jewelry segment. INOVEO identified the pillars that sustained TEILOR's development until now, as well as the essential brand values. The main components of the visual identity emerged during intense internal workshops with top and middle management. This led to rephrasing the vision, mission, and values of the company.
The INOVEO designers rounded off the process with powerful visuals and a complex brand book. The brand book specifies essential rules for using visual brand assets in various media. Thoughtful design and hand-picked imagery gave the brand the upgrade it was looking for.
"Our brief was to improve the visual communication of the brand so that TEILOR could successfully present themselves internationally, as they targeted markets with superior knowledge and familiarity with luxury brands. This is the reason why the brand imagery has now a more sophisticated tone. More Western, if you wish. We abandoned the classical, all-black territory and made a bold step forward, as I understood that the business behind the brand is bold." Juergen Bamberg, Creative Consultant @ INOVEO, located in Hamburg
—
Dochita Zenoveiov, brand innovator @ INOVEO, talked about working with TEILOR: "We met a team with so much energy, I've rarely come across such an energetic vibe in over 20 years in branding. They share a culture of action and achievement that infuses everything they do. We reflected that in the new visual identity. We resonated with this narrative, that the value of jewelry stems from the maker and the owner that wears it. Because it is actually people that create the story. Everybody from TEILOR that we met knows fully well that they can achieve whatever they set out to, that they're unstoppable. So, we adapted to their high demands seamlessly and we felt – this phrasing is literally taken out of a workshop – like lions running with lions."
—
Florin Enache, founder and majority shareholder of TEILOR Holding, appreciated working with INOVEO and compared the process to a journey that has led exactly where it should have: "Working with INOVEO? A 360° experience that made us understand who we are even better, made us realize what our key advantages and needs are. They offered us the identity we were looking for through exquisite attention to detail. It was a real journey. Thank you, INOVEO!"
The new TEILOR identity is being implemented in all the chain stores, as well as all TEILOR online channels.