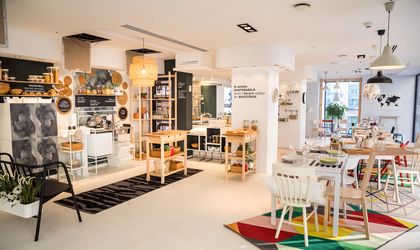 For six weeks, Ikea Popas Urban, the relaxation space on 46, Victoriei Boulevard, received thousands of big and small visitors and offered a relaxation alternative to the IKEA style in the center of Bucharest. MSLGROUP The Practice was the agency that coordinated and implemented the events, in partnership with IKEA Romania.
Over 20,000 visitors entered The Urban Layover during February 15 – March 29 2017. Every weekend, the small visitors could enjoy the 40 workshops and theater plays for children and every Tuesday and Thursday evening the Swedish Embassy organized movie nights and Swedish language courses.
"We wished to come closer to the people in Bucharest and to bring a part of the IKEA experience in the city's center. Now we believe that we've succeeded more than that: for a month and a half we offered a space of meeting, relaxation, work and time spent with the friends and the weekends were full with tens of children that took part in the workshops and theater plays," said Daniela Stoican, PR manager at IKEA Romania.
IKEA Romania collaborated with the following teams on this project: MSLGROUP The Practice – the agency that coordinated the events and activities in the location, Kinecto Isobar – for the digital communication, Punct – for the visual identity and Media Investment – for media and outdoor branding.
Romanita Oprea