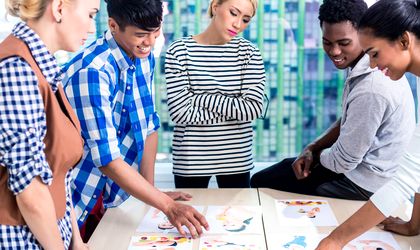 Running a successful creative agency is no easy task. However, there is plenty of demand out there for these businesses. There is no shortage of clients for a successful agency.
What Is a Creative Agency?
A creative agency offers a wide range of services to businesses that want to sell products online or improve their online presence. They have dozens of potential responsibilities. A creative agency might do any of:
Discussing advertising strategy with a client company
Creating ads for the company
Writing emails to send to potential customers
Helping the client company's website rank higher on Google
Writing, graphic design, photography, presentations, or videos for a client company's website or social media accounts
Help a company develop a brand image and use it to attract customers
Using analytical tools to measure the effectiveness of advertising
Hiring experts outside of the company to help client companies
Identifying mistakes the client company is making
Helping the client company learn more about how digital marketing works
What Is Most Important for a Creative Agency's Success?
The two most important things are 1) rapidly building your company's reputation and 2) hiring the right team members. Presentation is also important as well as an agency project management software. You need a good website plus social media accounts – but you can't have a good website and poor service.
How to Build Your Company's Reputation
At the start, don't even focus on making all that much money. First things first, you need satisfied customers that will recommend you. Without that, you'll never get past the early stages, and your business will fail.
Always do a good job, make any revisions your clients need until they are completely satisfied, and offer your money back if your customers don't like your work. Losing a little money now is better than losing a lot of money in the long run by damaging your company's reputation.
Communicate with your client as much as possible so that you can do what they want. Vary your approach for each company – an approach that works for one company might not work for another. Reassure them if they are skeptical about anything you are doing.
Raise Your Prices After You Are Out of the Early Stages
Don't continue undercharging clients for a long time. You can't or shouldn't keep charging a discount price for years. Only charge much less than normal at the beginning to build a portfolio and earn testimonials.
Hire the Right Team
You need to hire a mix of generalists and specialists when building a digital marketing team. Generalists are known as "full stack marketers" and have skills such as:
Creating a marketing strategy
Improving a company's social media presence
Storytelling
Analytics
Creating content
Maximizing the company's website's conversion rate
Email marketing
Specialist Team Members
Other team members should be specialists. Someone who specializes in content creation might be a video creator, writer, podcaster, social media poster, and infographics creator.
Another team member should help the client company increase its revenue in ways other than creating content. For example, they could improve the client website's SEO; or end an advertising campaign that doesn't offer much return on investment.
Another crucial team member is the acquisition specialist. They are the ones that find customers for your creative agency. They deal with advertising (for your company rather than the client's company), finding out what customers want, and analytics.
Don't Be Afraid to Outsource Work
If you are very busy or don't have anyone on your team with the right skills, you should outsource. If you insist that your team members do it even though they have too much work or don't have the right skills, they might do a bad job.
Other Tips for Success
One small but significant thing that will keep your business alive and growing is putting your contact information on every page. Because of people's short attention spans, the contact information should be right in front of them as soon as they consider contacting you.
If they can't immediately find your phone number or email address, they might leave your site and use another company's services instead. Everything on your website has to be fast and easy to understand.
It can't take a few clicks to find your contact information page, and it doesn't even have to take a single click. You can put the contact info at the top of every page on your site so potential customers can contact you as soon as they consider it.
Have a Blog
Companies have blogs because the blogs attract traffic and potential customers to their businesses. If someone is looking for a creative agency (or a roofing company or anything else), their google searches might direct them to a blog post. The more blog posts a company has, the more visible they are to search engines.
Use Search Engine Optimization
Small mistakes can make your company's website invisible to search engines. Google looks at hundreds of different metrics and weighs each one differently.
One thing that has been important to Google for a long time and may stay important is page load time. If your page doesn't load right away, Google's bots will notice this when they examine your site. If your company's website loads slowly, it won't be on the first page.
Being on the first page for as many keywords as possible is crucial. Most people pick a result from the first page – they aren't likely to look on the second or fifth page for a better company that might not rank at the top. Search engine optimization also requires:
Including the right keywords
Putting content people will read on your site
Making your site mobile-friendly
Providing a great overall user experience
A good title/description (fewer people click on a webpage with a poor title, description, or URL)
Show Images of Your Team and Office
If you meet in person rather than online, show your office and your team working together. Remember that a potential customer might be skeptical about a company they haven't worked with before, especially if it is not a well-known company.
If you can show them pictures of your office, or at least your team that works with you online, you can ease their skepticism. If they don't know who you are or who works for you, it is not easy for them to trust you, not even if there are good testimonials on your site.
Email Newsletters Can Help You Sell Anything
You can sell nearly any product or service with an email list. If people are interested in hiring a creative agency but aren't sure yet, they might browse your company's site without buying anything.
Try to get anyone who looks at your site regularly but doesn't buy anything to give you their email and sign up for a newsletter. You can then send some purely informational/entertaining emails and some emails that promote your services.
Use Social Media
For better or for worse, social media is very important and might always be. Businesses have to take it seriously. People talk, learn, make plans, ask questions, and search for the right products/services through social media.
Photo: dreamstime.com