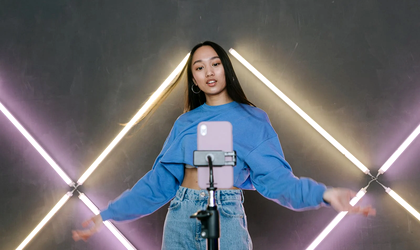 Every day it becomes more and more difficult to gain popularity, attract new subscribers, and get to the top of TikTok. This is because there is so much quality content on the web that it is difficult to compete with other users. Therefore, in order to get the maximum number of visits, many members of this social network begin to use various additional tools.
To compete with other interesting content, users are learning various tips to use this platform. Effects are a very effective tool to promote and improve the quality of a video. There are many TikTok editing apps to style your content on TikTok, but the simplest and most convenient one is Vjump.com: https://vjump.com/add-transitions-to-video-TikTok. This article provides useful tips and tricks for using effects on TikTok.
The platform is the most popular social media best TikTok editing app in the world to the number of followers. Its active users are generation Z, the main people under 24 years old, who are fighting for their 15 seconds of fame on the Internet. But now not only children and teenagers are involved in the TikTok phenomenon. And this is not surprising, because TikTok provides its users with a platform for creative self-expression.
When to use effects
You can add effects to your video while recording. It's okay if you didn't do it ahead of time: the effect can be applied to an already finished video. If you don't know how to use effects while shooting, here is a simple and detailed guide:
Open the camera;

Select and open the effect you are interested in;

Record a video using the effect you like;

Post your content and get multiple views!
But there are times when you find a fascinating and attractive video in the gallery that you would like to post on TikTok. But such content clearly lacks an unusual effect. Then you need to adhere to the following algorithm of actions:
Sign in to edit TikTok video;

Open the camera;

Select the desired video from the gallery and click the "Next" button;

Click on the red button "Effects";

Choose the effect you like the most and click the "Next" button;

Save the video and share it with your followers!
Now the TikTok platform has a lot of unique, fascinating, and unusual content. Therefore, just making a high-quality video is no longer enough. Users want to see a beautiful image, not a simple everyday life. So get creative and impress your followers with unique content. This is where visual effects come in handy. We wish you to get millions of views!