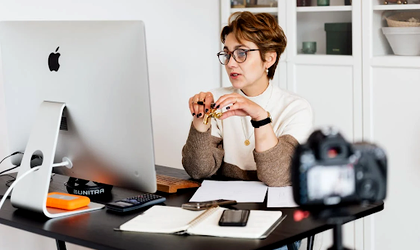 As an effective coach, you must regularly deliver top-notch services and always be willing to learn and upgrade your skills to remain relevant. 
There are constantly new trends in coaching and education and even the most successful coaches must be aware that coaching methods and knowledge can quickly become outdated. According to statistics, there are currently more than 71,000 certified coaches worldwide, and that's why coaches must always keep up, stay ahead of the competition and provide their clients with the best possible service. Coaching requires a lot of practice and the discipline to keep checking in with yourself and your clients. 
As with any other business, attracting new clients is essential for a coaching business to thrive. However, retaining existing clients and making sure they're satisfied is even more important. This allows you to scale your business, and increase your profits. 
So, if you're having a difficult time connecting to clients and feeling stuck, this article will help you improve your coaching approach and achieve better client satisfaction.
Create a Safe Environment
Coaching is a powerful tool for professional as well as personal development. It helps people to identify and reach their goals, build confidence, and make better decisions. To be successful in this profession, coaches must create a safe environment for their clients.
This involves creating an atmosphere of trust and respect, where clients feel comfortable sharing their thoughts and feelings without judgment or criticism. A safe environment also allows clients to take risks and explore new ideas without fear of failure or rejection. By creating this type of environment, coaches can ensure that their clients are satisfied with the results they achieve through coaching sessions.
Use Quality Software Tools
Coaches are always looking for ways to improve their performance and increase their efficiency. Software solutions can help them do just that. By leveraging the power of technology, coaches can streamline their operations, automate mundane tasks, and gain better insights into their clients' progress. With robust software solutions, coaches can save time and focus on what matters most – helping their clients reach their goals. The best coaching software allows coaches to track client experiences and opinions.
As mentioned, this will give them a clear picture of their client's progress and how much they're content with the services they receive. These tools provide coaches with data-driven insights that help them understand how they can better serve their clients. This type of software allows coaches to easily manage their sessions with clients, track their habits and goals, efficiently manage their time but also connect with other professionals in the industry and exchange ideas on how to improve their coaching skills.
Communication Skills
A good coach can communicate well and exudes competence, credibility, respect, and authority. It is fairly important to be able to form and explain your ideas clearly. Communication is clear when you have defined goals, give direct feedback and reinforce the main messages. 
Knowing how to relay a message is also crucial when being a coach. Public speaking is an essential skill for coaches that want to stand out from the crowd and become more successful. Participating in a public speaking course can help coaches to build confidence, refine their rhetoric skills and learn how to engage with their audience.
By attending a public speaking course, coaches can learn how to craft persuasive messages, use body language effectively, and develop strategies for managing difficult questions. With these skills in place, coaches will be able to make an impactful impression on their clients and colleagues.
Be a Good Listener
Coaching is a powerful method for helping people reach their goals, but it can only be effective if coaches are good listeners. Listening is an essential part of the coaching process, as it allows coaches to gain an understanding of the client's needs and provide tailored advice.
Good listening skills also help to build trust between the coach and client, which is essential for successful coaching. By being good listeners, coaches can create an environment where clients feel comfortable enough to share their thoughts and feelings without fear of judgment or ridicule. This helps to foster a productive and positive relationship between coach and client that will ultimately lead to increased client satisfaction.
Gather Feedback from Clients
Client feedback is extremely important. When you are open to constructive criticism, clients will feel heard and valued. Collecting feedback will also allow you to make sure that your services meet your client's requirements.
You can collect feedback in different ways throughout the year, including by sending out emails with questions, asking people to complete a form on your site, or conducting polls. You can also ask clients to provide feedback via a video or phone call if they are comfortable doing so.
You can collect relevant and useful feedback by asking the right questions and using a survey service that is easily accessible to clients. You should be ready to listen to your clients and accept their feedback, no matter where or how you do it, and thus ensure client satisfaction.
Wrapping Up
Coaches play an integral role in helping clients achieve their goals and objectives. However, it is also important for coaches to ensure that their clients are happy with the services they provide. By leveraging these effective tips, coaches can ensure that their clients are seeing progress, would love to come back for more sessions, and are willing to recommend them to other people.