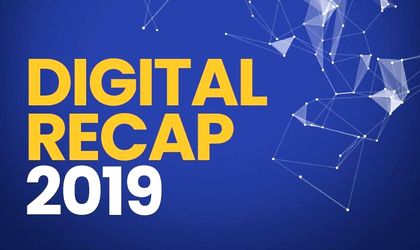 Subjects such as fake news, deep learning, influencer marketing or the ethics in the communication with the influencers and social media are just some of the interest themes of this year's digital agenda. Moreover, the attention is directed towards new brand communication territories, from podcasts to video content and the new manners of including the trends of this year in a relevant way in the communication.
By Romanita Oprea
What we keep from 2018 and what is there for us in the 2019 digital year are the main questions to which this edition of the Digital Recap report, created by The BridgeTM – Golin's social media and digital hub – and the blogger Alex Ciucă (Hoinaru) are trying to answer at. The full report can be seen here: www.digitalrecap.ro.
"2019 announces to be the year of the digital connection. For the first time in the history, it is estimated that half of the world's population is connected to the Internet, summing up 4 billion users. Therefore, it's more important than ever to offer this communication medium the right attention, to explore it and to explore its potential truth. We look in the first place at this year's trends and how we can reflect them and integrate them in communication in relevant manner. We are exploring new brand communication territories, from podcasts to video content and we see what is "new and hot in the old influencer marketing". Because yes, we will continue to talk this year as well about influencers, but also from other perspectives and, maybe for the first time in a serious manner at us, rising the ethics, fake news and fake content problems in influencer marketing and social media", said Irina Roncea, Managing Director, Golin.   
At its eighth edition, the report will present the main evolutions and trends in digital, offering at the same time predictions and recommendations for the brands and the companies that wish to be relevant in this year's digital context. Digital Recap 2019 includes articles signed by blogger Alex Ciucă (Hoinaru) – "Key topics in 2018", Oana Pohrib (Digital Manager, Golin) – "The reporting of a campaign, from setting the objectives to measuring ROI", Alexandra Ion (Digital Manager) – "IGTV – a success that is still awaited or an abandoned scene?" and Roxana Ionescu (Senior Digital Manager, Golin) – "Your guide for the communication of a business through videos on social media" or  "Question everything. Especially in 2019".
One of the main trends this year is the growing interest for vocal interaction. Thanks to services such as Siri, Google or Alexa, vocal interaction with these devices is in continuous development. In total, 52 percent of those asked said that they used or are using a vocal assistant for their mobile phone. In 2020, is estimated that at least 50 percent of searches will be done by vocal command.
At the same time, video live content is also rapidly growing. In 2019, in terms of viewing and engagement level, Facebook offers the most functionalities ready to attract the users' attention when this type of content is available (reminders, notifications, content highlights, etc). Moreover, the live streaming function is extremely valuable when is combined with influencer marketing tactics.
Another trend that is also maintained is represented by chatbots.
Digital Recap 2019 can be downloaded for free at www.digitalrecap.ro.